Click Here To Visit
with Drew Huber
1998 Zuk Run at Tellico OHV--North Carolina
Team Zuki arrived late Friday night at Stateline Campground to find four other Zuks already there. Mike Dugan (Team Zuki Too), Chris Robbins and his wife Christy from Huntingdon,TN, Rob Crum and his son from Marshall, NC, and JR. Brasher from Pell City, AL. Besides the Zuks we had Hal Hall in his Toyota 4-Runner and Ben Giles driving a built to the hilt Bronco both from Birmingham, AL.
The Players
Chris Robbins runs a '87 Samurai with a Calmini 2" shackle reversal, Detroit EZ Locker in the rear and 30" A/T's. Rob Crum drives a '88 Samurai JX with 3" Calmini spring lift, 1" shackle lift, 4:56 R&P, Lockrights f&r, 4.16:1 T-case, Centerforce clutch, K&N air filter, headers & 2.25" exhaust,   dropped pitman arm, homemade nurf bars, 8000# Ramsey, CB/weather radio,custom seats, 6 speaker overhead soundbar, center console, Hella lights on windshield, 10.50 Swamper Thornbirds, custom T-case shifter (std, shift pattern and 2nd shift pattern with 2 low), soft top for summer and removable hard top for winter, removable doors, homemade pumpkin hats, Con Ferr belly skidplate. JR. Brasher drives a '86 Samurai with 88 upgrades along with a SPOA and stock springs, 31 X 10.50 M/T's, a GRS1 transfer case and a Lockright in the rear and last but not least a Headman header. For Team Zuki and Team Zuki Too specs just click on them to go to that page.
The Ride
Everybody met up early Saturday morning and after discussing which trails we would run, it was decided that we would go up trail 11 also know as Helicopter Pad. We headed up trail 1 and connected with trail 4, an easy ride that allowed us to warm up for what was to come .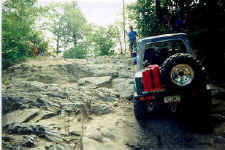 Helicopter had gotten a lot worse than it was last year,  it had washed out on the lower section pretty bad. There were new ruts to climb and the old ones were a lot deeper. Not
even a 100 yards into the trail we found a new rut that gave everybody a little wheels up action to get the blood pumping. We made our way up the trail with little trouble and came to the first big obstacle of the day, Guardrail. Guardrail is a section of rock ledges that you have to climb with the chance of a rollover in the HIGH category. Ben Giles in his Bronco led the charge up Guardrail and made it look easy! Team Zuki was next in line for the climb. I had to winch up it last year and was ready to make it up this time, but it was not to be. After smoking a little clutch, a Centerforce at that, I opted for the cable. After that Hal Hall took his shot at Guardrail but he too chose the cable. Rob was next and decided right off to use the winch. Even with a cable he got a wheel up in the air. Next to try was Mike in Team Zuki Too. He made a valiant effort but after bouncing and coming close to a rollover, he too opted for the string. Mike then turned around at the top and hooked his cable to Chris and Junior and winched them right up. I've got to get a Warn 9000I!
08/11/10 15:28
[trails/footer.htm]