Click Here To Visit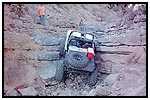 Once the driver has conquered the vertical ledges on the left, he must try and find a way around the boulders in the middle of hot tub at the top. There is a choice of a wall of ledges or a 'V' notch to exit this one. Although the notch sounds like an easier route, it is made up of very sharp outcroppings that will tear at sheet metal and sidewalls. 
This is where Tim (wisely) pulled the passenger side door before trying the notch.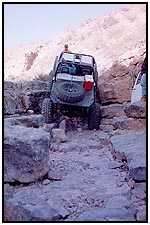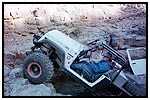 After a few tries and a few 'near misses', Tim went for the ledges instead. This was the first day of a two day 'whirlwind tour' of the f our listed extreme trails. The only extreme trail that we didn't get into that weekend was Patzcuarro's Revenge. A few flash floods had made the trail completely impassable by even the locals standards. It took something like 6 work days to rebuild the trail to it's normal level, but they had it done in time for the 2002 Chile Challenge. But that's another story!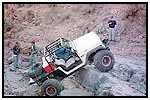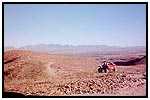 This is a typical trail down in the canyons north of Las Cruces, New Mexico. It makes for some great adventure and a lot of teamwork to get through to the end. Then, when you get back up on top of the canyon walls, it looks like a totally different world. The desert southwest hides lots of possibilities in it's folds, you just have to go out and explore - of course do it with a group so you have an anchor point...

08/11/10 15:39