With Bill Johnston
Super Hub Bolt Upgrade Kit
Have you ever jumped on the gas in four wheel drive expecting the tires to grab and pull the vehicle through the rocks? But then you see bolt heads flying and someone tells you your hubs are spinning inside the wheel? Time to beef up the hub bolts!
Ok, so the hub on the right doesn't seem very stock looking. But believe me, it's got legit Suzuki roots. We just added some bling we built ourselves and combined it with some muscle from Spidertrax.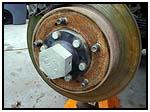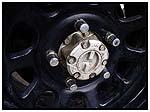 Now the hub on the left looks a bit more like you would expect on a Zook, and this upgrade works just as well on the stock hubs, but we had problems with our beefed up back axle that was outfitted with a Spidertrax  Full Floater Sidewinder. We kept blowing out stock hub bolts and then aftermarket replacements.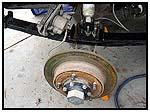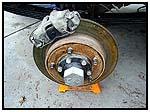 Although this looks similar to a front setup, we set the rear up with front disc brake calipers. That is why we know it will work up front just as well. We will probably do the front next to keep everything consistent. The first thing to do was to remove the brake calipers.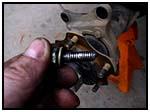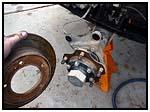 After removing the brake rotor, we removed the aftermarket bolts and saw just how trashed they were. And these bolts were the ones that survived! The bolts have a limited surface in which to 'grab' onto the threads in the housing. There just isn't enough 'grab' to keep the bolts from vibrating loose, even with loc-tite.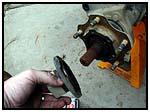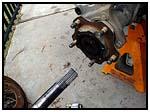 These two pictures are where the front and rear look a bit different. Because of the strength of the full floater, we used the drive flange from the front of a four door sidekick that didn't come with locking hubs. This took away the possibility of blowing a rear hub under power. Then we pulled the axle shafts to get them out of the way.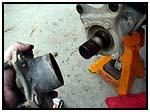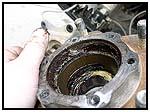 We needed to remove the wheel hub so that we could work on it easier. Work on it? Yup. If we are going to use larger hub bolts, we definitely need to increase the size of the bolt holes. If the bearings looked worn, this would be the time to take care of it.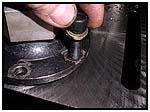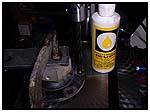 We then took the drive flanges and the wheel hubs over to the drill press to make sure the changes were done with the least amount of problems. This is not a job for hand tools. While the drive flange isn't really critical, you still want the bolt to fit perfectly so that there is no 'wobble room'. We used the 3/8" drill bit and cutting oil that Spidertrax included in the kit.
08/11/10 15:09