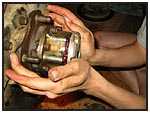 33. Don't forget the little circlip!! Hard to believe this tiny ring of metal can actually hold the hub on!! If the axle shaft has scooted in towards the truck, turn a bolt into the threaded hole in the axle end and pull it out and get that clip on there.
34. Replace the free wheeling hub body and cover.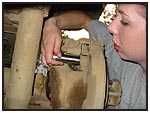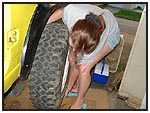 35. Replace the brake disc and caliper. (Murphs note: Although we didnt, this would be a very convenient time to replace your brake rotors and pads if you happen to need them). 
36. Put your wheel back on.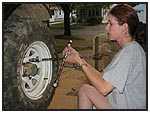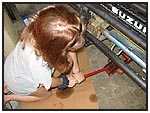 37. Tighten the lug nuts in a star pattern.
38. And lower the zook!! 
39. Now lets go riding!!! 
Special thanks to Murphy for always pushing the boundaries and showing me that I have no limits -- not to mention trusting me to work on his zook!!! You rock Murph!! Don't forget it!
Also, HUGE thanks to Figmo and Lora at RoadlessGear.com for their support. Please visit them for all of your offroading parts and accessories. Oh, and tell them Brandy sent you!
"Because there's a thin line between hobby and mental illness!" 
08/11/10 15:14