with Bill Johnston
The Stance
One of the most important details that need to be addressed when using 'larger than stock' tires and any kind of lift is the overall usability of the suspension, and the finished 'Stance' of the vehicle.
When we started with this vehicle, it ran a set of 2.5" OME springs and tow shackles that gave an overall lift of about 4". After running the suspension through its working paces, we realized that this was a lot more lift than was needed. We wanted it to sit closer to stock height, but still have enough room for the tires without rubbing. And because this vehicle is being built to handle well on the streets, we wanted a little wider tire path to give us more stability in the turns.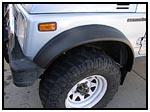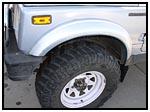 While waiting for the new tires to come in, we needed to make sure the rubber wasn't going to stick out like a little euro-racer. So the good folks at Petroworks set us up with a new set of Fender Flares that replaced the stock set with amazing ease. They are 6" wide (instead of the stock 3") and mount using the stock fasteners. Here is a link to the full installation.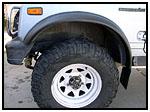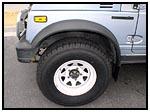 Next, we pulled off the OME spring packs and replaced them with some stock packs that have been doctored up a bit with some lifted CJ leaves. This dropped the overall lift by almost 2". Still enough lift to keep the tires off the sheet metal, but not as much of a void between the tires and the fenders. Then the tires came in. We kept with the same size tire as before, but went with something a bit more street friendly. We also made sure that the tires would work well when being flat towed (as we found out that the Baja Claws definitely did not). We went with a set of 31/10.50/15R's as before, but these were a standard AWT (all weather tire). They were more street than trail, but able to survive with a decent lug pattern and a 6 ply sidewall. Although we wanted a wider tire path, we didn't want to put more rubber on the road (using a wider tire) as that would add more rolling resistance.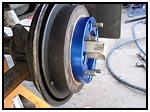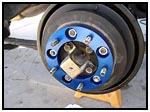 The guys from Spidertrax came through for us by sending two sets of 1" spacers to move the tires farther out (they are packaged in pairs, so it takes two sets to do all four corners). They are called spacers, but they are actually wheel adaptors. A spacer is like a thick washer, but an adapter is milled to accept a set of stock wheel studs that the tire will bolt to. These are much safer than a 'spacer' and doesn't require longer wheel studs to get a good hold on the lug nuts.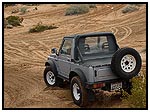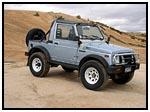 Here is the stance we achieved with all this tweaking. I think it was worth the time.
Sources:
Petroworks Off-Road Products 111 W. Aviation Rd. Fallbrook, CA 92028 Tel:   (800) 952-8915 Orders          (760) 731-9434 Tech Fax: (760) 723-7596 Email: info@petroworks.com             orders@petroworks.com
Spidertrax Off-Road7510 Hygiene Road Longmont, CO 80503 Tel:    (800) 286-0898           (303) 772-0033 Fax:  (720) 294-9950 Email: Online
08/11/10 14:53