Click Here To Visit
with Chris Robbins
Tellico Spring Trail Report
Tim Justice and I rolled into State Line campground around 4 p.m.on Friday,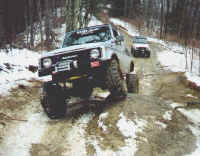 March 5th. It had snowed that week and there was still about an inch on the ground. The wind was gusty, and the temperature hovered around freezing at dusk. As we started to unload, I remembered the Zook's gas tank was empty when I had loaded it. We set up camp and went for fuel. The store at Green Cove didn't open 'til the following weekend, so we had to drive the 21 miles back to Tellico Plains to fill it up. That night, after we finished our fine BBQ chicken that Tim prepared, we loaded up for a night run. It was late and we were worn out from the 7 hour drive to the trail head, so we kept the ride short. We went to the top of Trail 6 and back down, then called it a day. It rained off and on that night, and the wind did not stop until morning.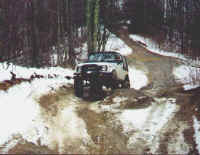 Our plan for Saturday was to ride Trail 11(Guardrail, Helicopter Pad). We started on Trail 4 which connects to Trail 11. We made it to the base of Guardrail with little trouble. The snow was 2-3" deep along with some ice, which made things rather interesting! After scoping things out and weighing our options, we decided to back down. We could have made it to Helicopter Pad with a little help from the winch, but the only ways down are the back side of #11 and School Bus. I had been down #11 in August, when it was dry. I didn't even want to think about coming down it with snow, ice, and sloppy mud! We had to back about 50 yards on the gooey rocks to a spot wide enough to turn around. We rode back down #11 to #4, and turned onto to #3. The snow was really deep here! The trail hadn't been used in a while, and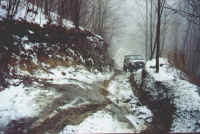 further down the we found out why-- downed trees had the trail blocked. Luckily, Tim had a hatchet and we took turns whacking at the tree (7-8" diameter). We got more exercise than we had planned, as we encountered several more smaller trees to remove. (BTW, Tim carries a larger axe now!) We followed #3 around until it ran back into #4- a Long Way! For a time, we wondered if we had somehow wandered off of the trail- it was a misty, deserted stretch.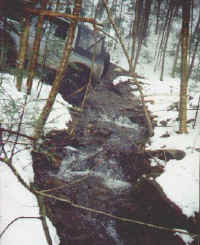 Finally we ran up on a sign that told us we were still on #4. It led into trail #6, the one we had made the night run on. On our way back down the mountain to camp, we came up on a group coming up the trail led by a Samurai. Tony's Sam had a shackle-reverse and ~29" mud-grips. Behind him was a freind we had met at the Rosser event in Chattanooga last year- Gareth. His big Toyota was stopped, as they were extracting a Nissan pickup from a tough spot on a rock. The group had two Nissan's, two Toyota's, and the Samurai. They had had a rough time of it, with various breakages all day. We let the group pass by, and continued towards camp. It wasn't long until we came up on some vintage import iron: a Toyota FJ-55 with a smashed exhaust, with a Cherokee behind him. He had the trail completely blocked, and his pipes were pinched shut so that the engine would not run. We loaned the guys some tools to help with their predicament (chisel and Big hammer). Soon they had the pipe cut, (it actually sounded pretty good) and they decided to withdraw from the trail. We followed them back to camp without any problems.
Duane Ware from Chattanooga arrived Saturday evening towing his Samurai behind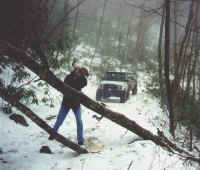 his motor home in time to hoist a few beverages. We had met Duane at the '98 Rosser Rendezvous also, and it was good to catch up before we bedded down for another freezing cold night. At least it didn't rain, and the snow had nearly all melted. Sunday's ride: We decided to keep it fairly short, since Tim and I had to make the haul back towards Jackson. Duane, Tony, Tim and myself rode up trail #4 and down #5 to the creek crossing. The run-off from the snow melt had the creek up a little from the last time I crossed it. We made it with no trouble, though, and the sun broke from behind the clouds for the first time all weekend. Carnage for the weekend = a few of blisters from the hatchett & Tim broke his interior door handle off from a frozen mechanism.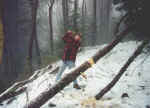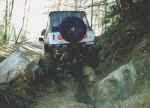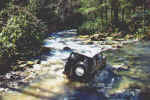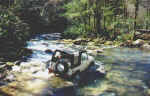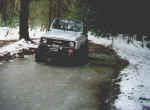 08/11/10 15:28
[trails/footer.htm]