This shows the Cj springs bolted to the relocation brackets in the front and the M/L's in the rear.
  Another view showing the M/L shackles      
  The rear is "U" bolted to the bottom of the springs.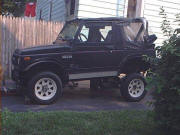 With the axles bolted in and the small tires  put back on it is easy to see the height difference from the spring over.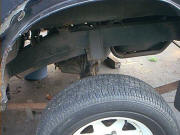 Looks to be enough room in the wheel wells for just about any size tire. Unfortunately there is no money in the budget for tires right now so the 30's will have to do. Thanks Crow.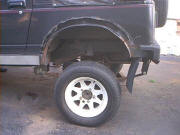 The stock 205 tires look tiny on the SPOA. My Wife came out and looked at it and said "You need bigger tire". She's great!! The shackle angle looks a little iffy. I am hoping when the front gets done the angle will change.     That brings us to the end of this installment. By next month I hope to be able to share the front SPOA being installed. It too will have Cj springs and M/L shackles. I don't have the Cj's yet so initially I will be installing rears up front. I promise it will not be another year for the next story. Special thanks to all who help with parts and labor:GlennRandy DaxeCrowCt BrentBrentNathanJustin and  all my Family    
08/23/10 14:10:4