Click Here To Visit
with Tom Lee
Snow Country
Howdy folks! My name is Tom and I live in Northern Montana, in the Flathead Valley by Kalispell. I'm about an hour southwest of Glacier Park, nestled up against the Swan Mountain Range. We have four distinct seasons here, and every one of them offers a new four wheeling experience. A trail that was a piece of cake in July becomes treacherous in November. You can be hub deep in mud in the valley in the morning, and in the afternoon, have your bumper pushing snow in the high country. It ads up to lots of variety, fun, and freedom.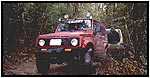 This is a picture of my '87 Samurai in the mud. I run a 4.16 low range in my T-Case. When in snow, you need the ability to creep slowly, especially on hills. Since this picture was taken, I have put a spring over lift in my rig. This was after a Calmini 2" reverse shackle lift was installed and I still needed more room for suspension flex. I welded up my custom bumper with a receiver mount, in which a Warn 8000lb winch can be put in. I like the option of taking the winch on or off. My Sammi is a daily driver, so flexibility is a key concern of mine. I run a front "Lincoln Locker" and an open rear, creating a balance between street manners, and off road prowess. I have just swapped in a '93 Suzuki Swift 1.3 with a high lift cam. I feel that my rig is set up to take advantage of stock reliability, drivability, and advanced four-wheel fun. 
Here's a pic of some winter fun in the Montana mountains.
This pic was taken after my SPOA was in. I don't need the winch most of the time in the snow, 'cause I've found tire chains to be more effective. I don't have any pictures of me using chains, but believe it, chains are as important in snow as a winch is in mud! I always have a set of chains on board.  Snow conditions can change rapidly when traveling from low elevation to high elevation. The snow can be sloppy at low levels, and be powdery/dry just 2000 feet above the valley floor. I've found over the years that the best time to wheel in deep snow is when the temperature has been above freezing for a day or two. The tread of your tires can really grip well if you can make a good snowball with your hands. If the snow is too cold and dry, tire tread can't grip it well. If the snow is too sloppy, the tires hydroplane and slip all over the place. Low tire pressures help a lot too. Installing chains on your tires can really help in all conditions. Many times in Montana after an extended winter warm spell, a layer of ice builds up on well used trails. If it snows on top of this ice layer, there's temporary traction on the top snow layer. But if a tire slips a little it will scoot the fresh snow out, and will spin on the ice beneath making tire chains very desirable. Rubber simply can't grip an icy surface!
A good rule of thumb is that if you can make a snowball, it's a good time to lock the hubs and go wheeling. Skiers like dry powder snow to have fun in and us Montana four wheelers like tacky warm snow to wheel in. Regardless of what the snow conditions are, its always fun to experiment and pit machine against nature. Snow wheeling is the most earth friendly wheeling too. Cause "next week" nobody will be able to tell that you were even there; your deep ruts and torn up trails simply disappear into the weather!  I am used to four wheeling by myself, because full-size rigs simply can't go where Samurais can. I've 'out-wheeled' 40" rubbered Blazers and nice Flat Fendered Jeeps. I've found that being lightweight in snow rules! Even a passenger can weigh enough to keep forward progress elusive! There are times where I've set my fast idle through the A/C circuit, and I've gotten out and helped pushed my Samurai up a steep & snowy section of trail... letting those low 4.16 gears strut their stuff. Extra weight, speed, and horse power means "NO-GO" on most steep, slippery trails. Sometimes lockers can put you into a downhill slide-to-disaster, on a slick off-camber hill. Even if you have a light rig, and your tires are super wide you can run into problems. I run a 30 x 9.50 BFG all terrain tire, with excellent results. My brother's Super Swampers dig into deep snow too quickly and after going head to head with him a few times, my AT's have beat the mudders every time. I admit that Super Swampers look cool. But looking cool stops as soon as yer stuck, at least in my mind. Snow is much different than mud or rock.
I've found that in very deep snow the Samurai can follow snowmobile tracks. The Sammi is narrow enough that it can use the snowmobile tracks to gain high ground. There is a limit to traction in deep powdery snow of course but I can testify to many a 'mobilers face that a Samurai can wheel in places that trucks simply weren't meant to go. It takes many years of snow-wheeling to really be able to read snow conditions, traction, and gut-feeling knowledge of your ride to be able to 4-wheel in places that only search and rescue choppers can extract you.  I now have 17 years of Montana four wheeling under my belt. I started out with a '79 Ford Bronco but after wheeling in a Samurai that I have bought and modified, I was sold on the thought that smaller/lighter was better. 
This is my brother's Sammi. He's from Seattle, and four-wheels very well in nearly stock form. I'm convinced that Suzuki has one of the most capable four wheel drive vehicles in stock form than any other manufacturer, including Land Rover. Light weight combined with a reliable and overbuilt drive train really combines to produce a legendary vehicle. This photo was taken at 5500 feet on the Jewel Basin Road. The Flathead valley lies 2000 feet below. The snow was sticky and offered excellent traction. The Samurai literally floated on top, pushing it's way through hood deep snow. I have yet to see a 5000lb, 400hp vehicle keep up with me. Face it Suzuki Samurais rule the deep stuff! Cheers, Tom 
08/11/10 15:31
[trails/footer.htm]