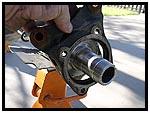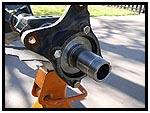 Here you can see where a set of stock front caliper brackets are used to hang the brakes. The axle housing is designed to make this a direct bolt-on.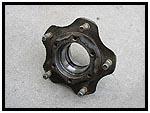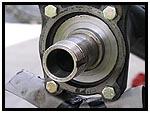 The stock donor front wheel hubs were cleaned up and outfitted with new bearings. As long as you have everything torn down this far, it is only smart to replace the 10-15 year old bearings.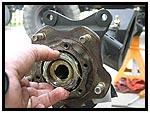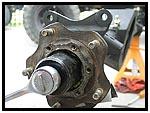 You assemble the hub just like you would on a front housing. When you tighten the Wheel bearing nut down, the Factory Service Manual says that you must torque it to 7.5 - 10.5 lb-ft.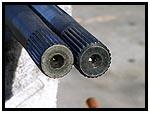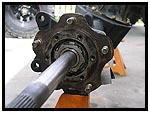 Here you can see the chromoly axle on the left and the stock Track/Kick axle on the right. Both are 26 spline models but the chromoly component will last longer on the trail. There is an upgrade that Spidertrax offers that will let you run 27 spline axles. This involves going to a new set of locking hubs and differential sidegears. The easiest way to do this is to go to an ARB Air Locker (as we will show next issue) and order the 27 spline sidegears with it.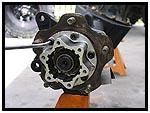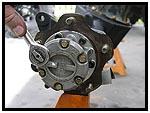 The Spidertrax Sidewinder Full Floater comes with their upgraded hub bolt kit. These  replace the stock bolts - just make sure you use the stock cone washers. You can get replacement cone washers from Suzuki for about $1.25 each, and it is well worth it as it will keep the attachment tight. Assemble the locking hub just as you would the front.
08/11/2010