Click Here To Visit
with Tim Tackett North Coast Off Road
Rubicon Adventuress with NCO
The dust has settled, and the 2000 Calmini Appreciation Run on the Rubicon Trail is over.  All I can say is WOW!  Coming from North Western Ohio, I was in awe with both the beauty of the Sierra Nevada Mountains, and the extreme nature and remoteness of the Rubicon Trail.
The group gathered just below Loon Lake outside of Placerville California for last minute instructions from Steve Kramer of Calmini Mfg., the runs Host.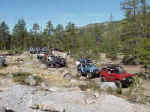 The group totally surprised a professional camera crew that was set up to perform a 360 degree video sweep of one of the new Toyota 4Runners for an obvious TV commercial.  To avoid interference with their production schedule, the group moved to the trail just below the granite slabs, and proceeded to air down and make last minute preparations.
I was given the opportunity to spend the next three days in the passenger seat, while Steve put the latest Calmini Sidekick creation through its paces.  The Kick was loaded with all the latest goodies from Calmini for an extreme shake down run by Steve prior to going into production.  If it could be broken, Steve was determined to find out the weak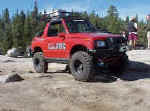 spots prior to public release.
The Kick was a 1989 two door which Steve has trashed and rebuilt at least five times.  It had a well-worn 1600 8 Valve FI engine with the Calmini Header and a new exhaust system. Steve wanted to ensure he could complete the trip with what could be considered to be a run of the mill Kick/Tracker.  It was equipped with the latest designs for front and rear bumpers, and the craftsmanship was flawless.  It also had the new prototype 3 suspension lift along with the current 3 body lift, prototype 4/1 T Case gear set, Rocker Skids, full underbody skid plates, roll cage, roof rack, and 32X9.50 TSL Super Swampers.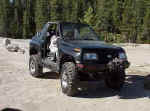 There were quite a few people who were really looking the truck over, undoubtedly wondering how it would perform.  Also present were Adrienne and Mike Hagan from Minnesota in their Geo Tracker, sporting a home grown suspension and side rocker protection.  With its doors removed, and a removable front winch, it was ready to take on the Con.
08/11/10 15:37
[trails/footer.htm]