Click Here To Visit
with Tim Tackett North Coast Off Road
Rubicon Adventuress with NCO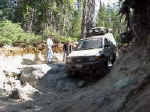 Once everyone was in the Sluice, it was downhill through the very rocky terrain to get to the entrance to Rubicon Springs.  Halfway down the Sluice, traffic picked up from the other direction, and a Jeep was stuck in the bypass with a broken rear axle.  The two groups worked together to get the other two vehicles off the main trail, and then winch the broken down vehicle into a pocket in the middle of the trail to allow traffic to pass around them.  Once the congestion was cleared up, it was straight down to the bridge over Rubicon Springs, and the campground just beyond.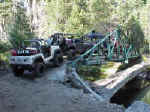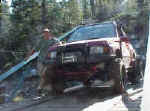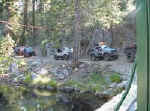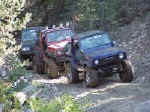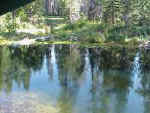 The Rubicon Springs Campground is privately owned by the same individual who puts on the Jeep Jamborees all over the Country.  During the Jamborees held at the campground, it is almost impossible to get in without reservations, with many signing up more than a year in an advance.  Being privately held property with the trail actually listed as a county road into and out of the campground, may be the one saving grace that keeps the Rubicon Trail open into this century.  The campground was in the process of closing down for the season, and only the Caretaker and one helper was around.  Having been the caretaker for nearly thirty years, there were quite a few stories to be told.  Once everyone found their place and the tents were all pitched, it was time to light the fires, cook some grub, and kick back with a few cold ones to reminisce about the days adventure, and to plan the strategies for the next days run up Cadillac Hill.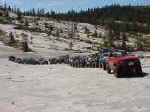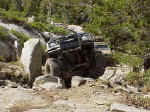 Once everyone cleared the first major obstacle, it was off to a large granite slab shaped like a shallow bowl where the entire group lined up nose to tail for a little photo shoot. 
From there on, the trail progressively became more challenging on the way to Spider Lake where the group would stop for the night.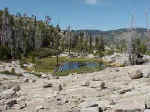 About 2/3s of the way to Spider Lake, the trail opened up again in the area surrounding a small picturesque lake called Meadow Lake.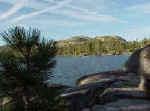 The group paused for a break, and a little more photography.  After Meadow Lake, the trail once again became more difficult, culminating in a narrow cut back that forced a three-point turn to clear a large boulder in the middle of the turn.  Once cleared, it was up and over the top to Spider Lake and the Little Sluice.
08/11/10 15:37
[trails/footer.htm]