With Larry Harris
Grouche Comes Full Circle
Guess I have come full circle. I have owned this Zook for a long time and have had every lift imaginable on it. Well except for the 1/4 elliptic or coil stuff. I am a keep it simple person, sort of? I have been running a shackle reverse for years and have been very happy with it. The ride and handling on and off highway is great. Out of the box it had very good articulation. So why change? Why go back to a Spring Over?
In the last few years the aftermarket has made leaps and bounds from the days of 3 inch lift springs and trailer spring perches. For those of you who know me and my truck you have seen its many forms. The very first suspension change was add - a - leafs. Easy lift, ride really sucks! Next was 3 inch springs, nice ride and with my body lift the 31's fit rather nicely.  I need more lift for the bigger tires, I have to have 33's! As a side note in the last year I have had a change of thought, I have dropped back down to 32's.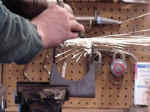 New Rocky Road Front Wrap Around Perch
Back then I really wanted 33's. That is when I decide to go Spring Over Axle (SPOA). What the heck there are lots of trucks out there with this style of lift, it has to work on a Zook. One thing you need to know at this point is there was only one place to buy aftermarket parts for a Zook, yep this is going way back. So far back it is about the time the Rock Lobster transfer case is designed and the ASA is born. Remember that far back? Oops....  off on a Zook tangent. Back to the spoa.
I go to the local trailer shop and pick up a set of 2 inch perches. They sure do have a low profile and not much meat? Long story made short. Do not expect to take a truck using marginal material and make a great off road vehicle out of it. Whom ever you decide to get your kit from know that a lot of thought and time has gone in to it. Sure you can do it cheap but you may not be happy with the results! After years of axle wrap, bump steer and finally a torn axle tube the spoa is removed in favor of the Shackle Reverse. Guess the moral to this story is decide what you want on your truck for before you start your lift shopping.  If you are going to primarily be on mild trails and sand dunes the shackle reverse is a great way to go. Want drop shackles and  rear springs up front? You may want to think about the spoa.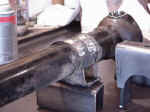 Stock Axle Passenger Front.  Notice you do not have to remove the "U" bolt plate
See where is this going? The reason I changed my lift is I wanted  to try the rears up front and really like my Revolvers so a change was required. Now it was my turn to shop around. I had a great deal of experience with a spoa that did not work and I was not going to repeat that mistake! One of the leading causes of spoa failure is poor selection of perches and axle wrap. Good news for Zook owners, the aftermarket has been working on this problem for a long time, my choice is made. I really like the idea of the Rocky Road Outfitters spring perch and the way it wraps from one side of the stock pad to the other. The owner, Glenn Wakefield was very willing to work with me on a custom kit. Rocky Road has a very complete selection of Spring Over Kits, from basic to custom. As you know I have had many different lifts so I did not need everything in the kit. I did not need the spacers for the drive shaft, the "Z" Link Eliminator or, brake lines. What I did end up with was four axle perches, rear shock relocation kit and 4 Doetsch shocks selected to work with my 5.5 inch lift pads. Since I was already shopping I also had them send me a new Transfer Case Mount Kit. You have to see this kit! Do not believe I will break this one? Is it time to get to the installation yet? Soon, I had bent axle tubes from running big air in the dunes so I needed new ones. Quick call to Rod's Used Samurai Parts and they are on the way.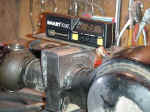 Most people do not go to .5 degree? I want it perfect!
New lift install day has finely come, axles tubes, perches and everything I need are here. Have you ever tried to make a major change to your truck  and write an article by your self? It is doable but it takes three times as long! A call to my good friend Jim Mazzola and plans are made to do all the welding at his garage. Did I tell you Jim and I are probably the worst two men to put on a project together? We are both perfectionist! If it is not absolutely perfect it does not go on, period! We are talking to 1/2 a degree. So as you read about how we installed the Rocky Road Wrap Around Perches do not despair. Anyone with a mechanical  back ground, good friends and the proper tools can install this lift. I caution again about making sure this is the lift you want and take your time doing it right!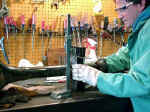 Above all as we proceed no matter what you hear, DO NOT ROTATE THE FRONT AXLE FOR BETTER PINION ANGLES, PERIOD. You bet I am shouting, this is very important and  in doing so, you can, and probably will make your truck dangerous to handle both on and off road!
The Fun begins please select the "Next Page" below!
Sources:
Rocky Road Outfitters Rod's Used Samurai Parts
08/11/10 15:23