Grouche Gets a New Lift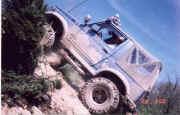 As I eluded to in the last article I have decided to go back to a Spring Over Axle lift on my truck. I have been running the Revolver Shackle for over a year on the Shackle Reverse lift and wanted to try them on something new. Or is that something old? The Spring Over Axle lift has been around longer then the Samurai. It can be found on many trucks in stock form.  As with any lift there are some good things and some bad things. With a SPOA comes plenty of lift, but you can also get axle wrap and bump steer. 
Time for a little soap box speech. When ever you modify your trucks suspension it will cause changes in how the truck reacts both on and off road. Adding larger tires will have an effect on how long it takes you to stop. Changing springs, moving rears to the front, adding lockers or what ever combination you end up will effect your handling. Make sure you have a good idea of what you want to use your truck for. Is it going to be 95% on highway use? Is it going to be 95% trail use? What components are you going to use? Going with a kit or is it going to be home grown? 
A note of caution here, do not expect to take an aging truck with worn out parts using suspension parts that are not designed to handle the stress and load we put on them to give good results. Some ideas I have seen on the web that you should not try at home.
Do not cut your old spring perches off then try to reuse them! 
Do not use perches from your local trailer shop. 
Do not run a continuous weld bead around your axle tube.
Do not use a stick welder to weld to axle tubes.
Do not cut and paste your steering components.
Do not rotate the front pinion for better angles!
Do not reuse your old "U" bolts!
Do not reuse the old cotter pins.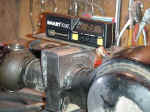 The only reason I even thought about going back to a Spring Over Axle Lift is to due to the advancements that have been made by the Suzuki Aftermarket in the design of new axle perches and kit components. Additionally they have addressed the problems associated with a SPOA. Notably the biggest problem being bump steering and axle wrap. We as Suzuki owners now have a choice on what pieces will go on our trucks. We can shop around for what we feel is the best design for our application. Better yet, in many cases we can shop prices and kit completeness. Or you can mix and match, be careful with this one it can be interesting to get different manufactures pieces to fit together.
Who to get the kit from? In my travels and phone calls I found there are a lot of great kits out there. They are all well designed and all can be installed by anyone with a welder and mechanical ability. Each of the manufactures has addressed  component design in a little different manner.
Tangent alert!
I want you to know there have been great strides made over the stock pieces in the quality and features in all the kits I looked at. You would not believe how much thought goes into the components in a kit. One example is in the perches.  Manufactures have spent a great deal of time and thought on them. You would not think a perch is a not big deal, it is! I looked at two kits.
Breeze (Sold by North Coast Off Road)
Comes in 4.5 and 5.5 inch lift versions. Large enough to "almost" wrap all the way around the tube from one side of the old perch to the other. Most notable feature, has the longest spring surface area of all the kits I looked at. This may help control spring wrap.
Rocky Road Outfitters
Comes in 4.5 and 5.5 inch lift versions. They are designed to wrap from the old perch from one side of the axle to the other. Most notable feature. They have a gusset that can be welded to the old perch front and back. The fronts can be installed with out removing the "U" bolt plate. These features will make sure you do not tear an axle tube.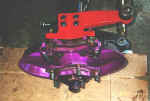 I have had many lifts on my truck over the years and I did not need a complete kit.  I went for mix and match for my application. I spent several weeks talking to many of you on the web and a lot of time talking to vendors. Here are my choices and why I decided on them. There are items that are not addressed in my list. You will need to look at brake lines and drive shafts. I have Tom Woods so I was set in the drive shaft department. 
The components I did go with:
Axle Spring Perch: Rocky Road Outfitters - I liked the idea of being able to weld the gusset to the old perch in addition to the small beads on the tube. I did not have to remove the "U" bolt plate on the front axle. I selected the 5.5 inch version.
Springs:Stock Suzuki - I decided on stock here. I am going with rear springs both front and rear. Had a few choices here. I could have opted for the 1.5 inch lift springs that are on the market. I had decided on the 5.5 inch perch so in my mind the lifted springs were not appropriate. When you get above 7 - 8 inches of suspension lift it creates a new list of challenges. I am running 32's so stock was the best choice for my truck. I am using the Rocky Road Front to Rear bolt on relocation kit to make the installation easy.
Steering: Knuckle Over - In my mind this is the only kit to go with. I am not a big fan of modified drag links. The Breeze kit is the best design I have seen in the Knuckle Over Kits. I was very impressed by the knuckle arm/king pin assembly.
Shock Pin Mounts:Rocky Road Outfitters - I really liked the front shock pin components in this kit. The pin comes welded to a plate that in turn gets welded to the old spring perch on the front axle. 
Spring Plates:Breeze - New pieces formed of steel plate with the ends rolled to prevent bending when being tightened. Edges cut and ground to prevent contact with front shocks on compression.
Shocks:Doetsch - Rocky Road matched them to my lift. Great shock for the weight of the Samurai, matched to the size of the lift.
Shackles:I am keeping my Revolvers. I really like the drop and the fact that the ends rotate keeping spring twist down. 
Pan Hard Bar:Spidertrax - This is a must have with drop shackles. Ever turn the steering wheel and the wheels stay pointing to the front? It is caused by the axle shifting from side to side. This is the strongest piece in the entire front end and more importantly it works!
Track Bar:One of the biggest problems with a SPOA and low gears is spring wrap. The kit from Breeze will cure it. If this was not available I would not be going back to the SPOA.
Sources:
Rock Road Outfitters Spring Over Kit Front to Rear Spring KitRod's Used Samurai Parts Used Axle TubesNorth Coast Off Road (Breeze) Track Bar Knuckle Over Steering Kit Spring Plates Spidertrax Panhard Bar Kit
08/11/10 15:23