Spidertrax Fairlead and Winch Rope
with Jeff Pollock
On my last trail ride while flipping a fellow zooker's rig upright my steel winch cable developed some serious kinks in it and bound up. It was so bad I had to unravel the cable and re-spool it a couple of times to get it back onto the drum. After I got home I inspected the cable and found even more kinks and curls in the cable. I began to search for a replacement cable.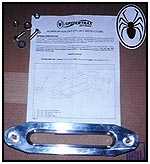 I spoke with a few friends who had seen the new synthetic winch line (rope) in use and they convinced me to look into it.  After researching information on winch cable and winch rope I decided to go with a Master-Pull Synthetic Winch Line (Rope).
Another important factor now was the need for a smooth pinch-point free fairlead. I was in luck because Spidertrax has an all aluminum fairlead designed especially for winch rope. As an added bonus, they could also provide the Master-Pull Winch Line that I needed. A quick call to Tom Kingston at Spidertrax and the winch rope and aluminum fairlead were on their way.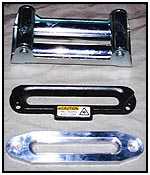 My order quickly arrived and I anxiously opened the box. The fairlead is awesome and the rope is definitely impressive. The fairlead is a hawse style fairlead but it has machined surfaces on both sides of the contact point and is as smooth as silk. It barely weighs anything compared to the other steel hawse and roller fairleads. The benefit of the machined surfaces is that the rope glides over these areas when pulling the rope in or out of the winch. The fairlead also included all of the bolts and washers needed for the installation. 
Fairlead Installation: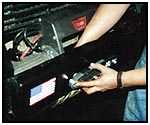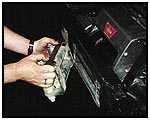 1. Un-spool the old kinked steel cable.
2. Remove the cable retaining screw. 
3. Remove the old roller fairlead. 
4. Bolt the new aluminum fairlead to the zook.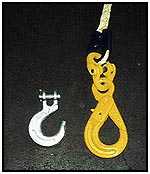 Wow, what a difference it makes. The old roller fairlead stuck out about 5" and this fairlead only protrudes an inch or so. 
The synthetic winch line (rope) I ordered was yellow, 3/8" diameter, and 105' long rated at 17,500 lbs. designed for Warn 9500 winches. The hook that is included with the winch rope is a massive (compared to the stock winch hook) positive-lock hook. The rope is extremely lightweight except for the hook, which is most of the weight for the winch rope. I seriously doubt this hook will ever fail. 
Winch Rope Installation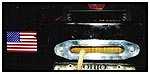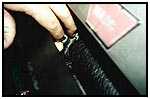 1. Insert the end of the rope with the eyelet for the retaining screw through the fairlead and tightened the winch rope retaining screw. 
2. Re-spool the rope. 
The installation is just that simple. This rope and fairlead combo is great! No burrs to slice your hand and it didn't kink or curl as it glided through the fairlead. After everything was installed I performed a few test pulls in the driveway and soon I will be testing it on the trail.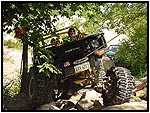 Product Source:
Spidertrax Inc. 11755-B North 75th Street Longmont, CO 80503  Sales: (800) 286-0898 Fax: (720) 294-9950 E-mail: sales@spidertrax.com
08/11/10 15:05