Click Here To Visit
with Jeff Pollock
Richland Furnace
With severe thunderstorms predicted Tim Porter and I, debated about the hour and a half drive to one of our favorite trails, Richland Furnace, but since we had company, John Cosentino, from Massachusetts, and Jim Mazrolle, from New Hampshire, we had no choice but to brave the weather forecast and go. Norm Clark informed me that his club was having a novice run but if the zooks showed up we would break off and do our own run. Since most of the zooks we normally run with were down we doubted that it would be a zook only run, but to our surprise there were ZOOKS, five of 'em whom we had never met before.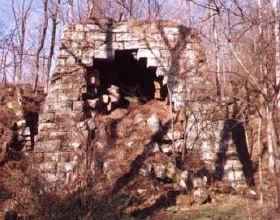 Richland Furnace
As we entered the trail we saw the furnace. In years past this furnace was used melt iron ore found in the region for the various factories in nearby Chillicothe, which at one time was the capital of Ohio.
In Attendance:           Kevin Brown - Gold zook with SPOA and 2" body lift running 33" MTs Kent Knudson - Green zook with a SPOA and 2" body lift running 33" MTs John Cosentino / Jim Mazrolle - Green Zook with yellow happy face lights with a SPOA and 2.5" OME running 33" Thornbirds Norm Clark - Light Blue zook with SPOA running 30" TSL SXs Ron Beauman   Multi-colored paint with a SPOA and 3" body lift running 30" MTs Jeff Pollock / Tim Porter - Black zook with yellow lights with a SPOA running 33" Boggers Devin Kisor / Jack Stroth - Green zook with a hard top with a SPOA and 2" body lift running 33" Swampers Jim Dickerson - Black zook with 1.5" lift shackles and 29" TSL SXs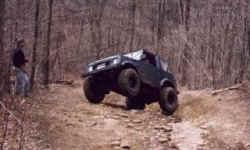 After our normal zook chatting we decided to head outto the gas station and then the trail.
It was about a twenty-minute drive from the staging area, Creola, before we were at the furnace. As we locked in and aired down and discussed the trails we wanted to hit, I was elected trail leader. There had been some pretty hard rains lately so the clay was nice and slick; this should be fun
The terrain in the furnace is mostly made up of hill climbs and deep ruts with a few rocks here and there which when covered with slick clay makes it quite challenging.
Across a creek and we're in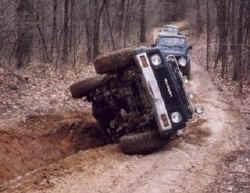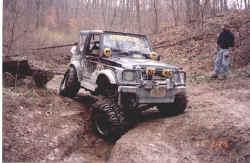 The first real obstacle we entered was a long, steep hill climb that everyone made with a little extra tire spin! The next one that comes to mind is the long rutted hill climb where a few rigs decided to test their limits of stability! John was the first one to test it and dumped his rig into the zook rut. Between us, I think he did it so he could try out his new REP 5000 winch. It worked, he got out so who's next?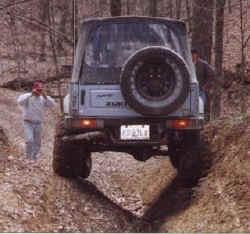 After John's "line" the rest of the group had a wheel up you could say! Everyone seemed to be progressing well until, Jim in his black zook, decided he to wanted to see just how far he could go. Well, he did, he followed suit and dumped it on it's side but with a little elbow grease and some grunting and groaning he was back on all fours zookin' along.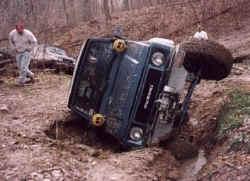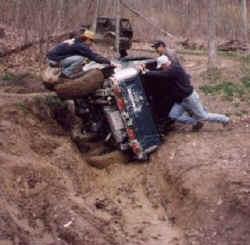 We proceeded on to the rutted section of the trail we named the "Jeff Rut". It used to be deeper filled with water but this time thanks to Mother Nature it wasn't so some of us made it through without problems! Then again some did not. John decided once again to try a different approach angle and then it happened. Oops another side shot! Pull the cable. As for the rest of the group, just a little counter balance here and there and we were through. The rest of the trail was filled with steep hill climbs and deep ruts waiting to swallow zooks. As for breakage, just two things, my t-case bolts came loose on the long arm and John broke a rear wheel bearing and lost a fender flare. Other than that it was a breakage free trip.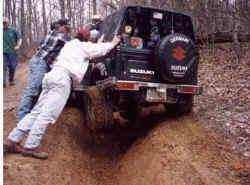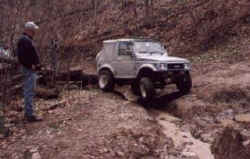 I just wanted to thank everyone that attended this ride and hope they too had a great time. Enjoy the pics, which show the story, and maybe next time you can join us flatlanders on the trail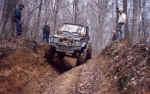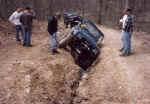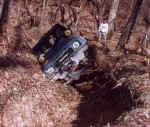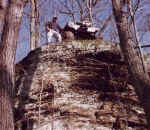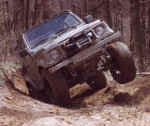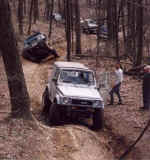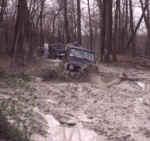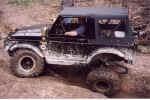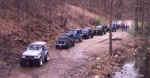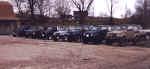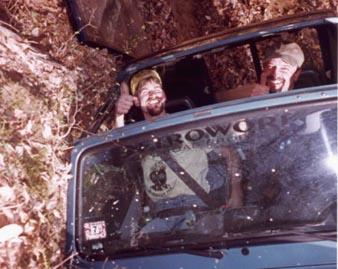 Think they will be back next year?
08/11/10 15:28
[trails/footer.htm]