RRO Reverse "S" 2 WD Low Shift Kitwith Larry Harris
 
Rocky Road Outfitters has just released a new product I have been testing for months. Just when you think there is nothing else to add to your Samurai RRO heads back to the design table. I believe they have come out with a product that will change the way you use your transfer case. Sure there have been two wheel conversion kits on the market for years. But  none of them allow you to retain the detent balls. With out them installed you may have to search for the proper gear. This can be a real distraction on the trail when you should be picking your line not wondering if your in two or four wheel high or low range.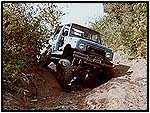 I installed the Reverse "S"  2 WD low shift kit  before the 2002 ZookiMelt. This allowed me to test it during the Melt and at the volunteer run in September at the Attica Badlands. It performed flawlessly! I was able to shift from 2 high into two low effortlessly.  You will have very positive shifts never having to "feel" around for a gear.
You must disassemble your TC to install this kit so allow your self some time. It is not hard to install and can be done with basic hand tools and a bit of Suzuki knowledge. A factory service manual is not a bad idea  either. This would be a good time to add lower gears or to freshen up the old TC bearings, shifter sheet and seals.
Keep your "Balls", add this kit to your "Must Have List". Show this article to your significant other as an idea for your holiday shopping list  😉
Priced at $80.00
Coming soon, billet shift knobs for your transfer case shifter with the Reverse 'S' pattern cut in.
Contact: Rocky Road Outfitters 888-801-7271 Place an order by fax at 435-654-6662Web Site
08/11/10 15:15