Click Here To Visit
with Nick Sipes of the Limestone Lizards
Redbird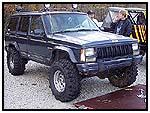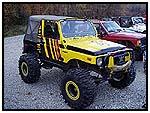 I found out one night surfing the net that a local park, Redbird S.R.A., was going to have a first time night ride. Redbird is the first state owned, and maintained, recreation park in Indiana. Its right now around 400 acres of wooded hills, ravines, and bottomless mud. My friends and I have ventured there many times already but never at night. Of course, being the wheelers that we are, that was an open invitation for a new thrill.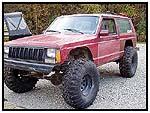 Planning and upgrades began a month in advance. Marks Wrangler got a major change. Grizzleyfab.com made his 94 Wrangler accommodate the new 36" Swampers, spoa, as with some other custom goodies to make it go better. Nathan began fixing brakes and such on both his tow vehicle, and his Samurai. Kevin bought a new set of 36" IROKs for his Cherokee. That took some time fitting the larger tire without additional lift over what he started with. Cutting fenders, and enlarging fender wells and all that goes along with that modification. And then there was myself. Drive shaft fixes, electrical problems, and leaf pack reconfigurations was on the slate for the Phoenix Samurai. The last day before the run, everything was completed by everyone.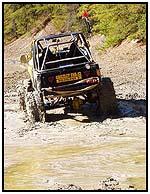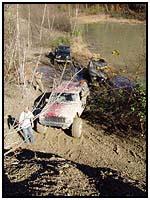 The weather was very dry for 2 months now with only small spurts of rain. The ground was so dry that it would have taken an auger to drill a hole in the earth to put a tent stake in it. Rain was something that the corn and soybean fields in southern Indiana dreamed of. Low and behold, Monday before the run weekend 4" of rain fell in some local areas and more was in the forecast. Now, for some time there was fog and misty conditions almost to the day of the run with 60's being the average temperature. The night run might be a slippery one after all. Anything would have beaten having to wear a painters respirator to combat the dust that would have been stirred up. 4:00 Saturday came and the Limestone Lizards finally fired the engines and took off for the night run at Redbird. It had started raining again at about 8:30 that morning and never really slacked off. That put us there right at 5:00 and an hour before bean dinner time. Plenty of time to chat and get everything unloaded and ready for last chance preparations.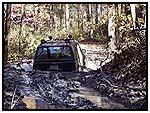 The parking lot is quite large and is all graveled with a very nice gate house. Bathrooms are now Port-a-potties, since the bath house was burnt down by some locals. They also have a number of concrete ramps for the easy loading and unloading of ATVs and bikes. To date they have 4 marked four-by trails and several ATV/bike trails. As expected, there was quite a showing, due to the rain, a 2hr trail becomes a 6hr trail and we were about to find out. Soon after we got there and unloaded, we were told a drivers meeting was to be held. While at the meeting they had the raffle, 50/50 drawing and let us in on the poker run rules.
After dinner we all packed up and hit the trail. WOW! was it slippery and nasty. Ed led in his Cherokee, then Kevin followed in his Cherokee, and Mark in the wrangler rounded up by myself and my son in Phoenix. Trail one was told to be the easiest trail and after all the rain we chose to go that route. All was fine until we found the sign for the hard trail. Thats the way we turned and everything changed. There was lots of ups and downs with some mud strewn between.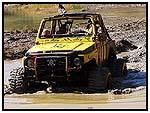 There were two places that wreaked havoc on us and thats what I will focus on. The first was where the trail went over an embankment, through a long mud hole, and then up a steep incline with a 3' vertical on the right side. Kevin clawed his way to the top only to find it drops back down the other side. Mark was next and after fighting it, and almost sliding sideways back down numerous times, his front drive shaft pulled apart. While all of that was happening, Kevin called back on the CB that he was hung up just past the next obstacle. As Mark did repairs, the rest of us wandered up to help Kevin. His Cherokee was sideways on a off camber hill wedged between two trees and with a caved-in drivers side door. It took a chain hoist and some good placements on Kevins part to get him out. When we did get him out, he continued on through that section then stopped to get back to Mark. As Mark was finishing his repairs I pulled my Sammy up to the same hill that took the Wrangler.

First I tried to crawl it, that didnt work. We backed up and hit it in third gear and this carried me right to the top then back down the other side. Mark followed next then Ed. On the last obstacle it was a slick fest. Everyone had problems with the off camber steep climb. But after some extracting, all made it out. Once out of the trail we finished up our Poker hands, played on a few side obstacles, then went back to the parking area to call it a night. Sunday we stayed for a daylight run. Mostly we just doodled around playing a bit on trails one, two, and 14. We did do some extracting too. I buried my Samurai and needed a tug by Kevin, and Mark rolled his on its side. Both incidents were on trail 2. Most of our time was spent watching the full tube buggies, including the Snipe from the Badlands, playing on the obstacles we only held nightmares about. But it was all good. Good company, food and wheeling made the weekend a success. On our way out, I spoke with the gate managers about the event and found out they WILL probably do it again.
08/11/10 15:31:31
[trails/footer.htm]