with Bill Johnston
Ranger Rick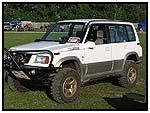 Rick Hall has been known as 'Ranger Rick' by the Suzuki community, and has been a well known face at Suzuki events all over the midwest for many years now. He has provided medical support  for ZookiMelt ever since I first met him. His newest rig is a 96 4dr Sport Sidekick and it is quite capable of getting him in and out of trails with all his gear.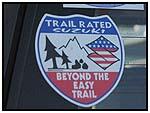 Running a stock motor and transmission is easy when you fill the transfer case with 4.24:1 gears. The 5.13:1 axle gears are set up with a locker in front and a spool in back. The 31x11.50 Interco LTB's are kept out of the fenders with a 2" body lift, 2" body spacers, some custom rear long arms and a set of Grand Vitara V-6 coils. This nets him a full 7" of lift.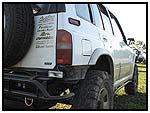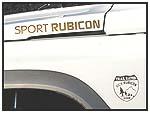 Rick was quick to point out that he couldn't take all the credit for building the 'Sport Rubicon'. Over the last two years he had help by way of the 2006 and 2007 Fab Fests. This is where a bunch of folks get together and pool their abilities and experience to help each other finish their current projects.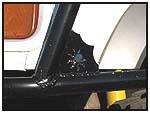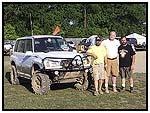 The photo on the left shows Grumpy, Rick and Steve Schilling. Grumpy (of Grizzly Fab) held the 2006 Fab Fest in Bedford, Indiana. The Bedford Boys were instrumental in the installation of the lift. Steve Schilling held the 2007 Fab Fest at his home outside of St Louis. He and the Missouri Boys built the front bumper and rock rails. This rig isn't just for the trails folks, it is also used it as a daily driver! Good going Rick!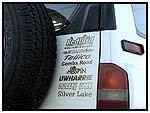 Built By:
Ranger Rick(with a little help from good friends)Nashville, Indiana
08/11/10 14:09