with Wiley Johson
Suzuki Mirror Modification
My Sammy came with the doors already modified so that they could be removed.  Occasionally, I take them off mostly to make working on the interior easier.  But to take them off to enjoy the openness during a run, I had not done; mostly because I would not have any mirrors to see what was behind me.  Now when you rockcrawl, you might not really need to see what is behind but in Texas, if you drive on the street, you need 2 mirrors to be legal.  Recently, my wife asked if we could drive around without doors so I was prompted to do something about getting mirrors that did not depend on having the doors mounted.  I looked around to find a mirror set that did not cost an arm and leg.  There were several for Jeeps that had nice stainless steel mounts and featured removable mirrors but cost almost $60 per side.   Visiting a friend's office, I looked at a Quadratec catalog and found a set of YJ mirrors made by Steel Horse for $40 for the set; in black like my Sammy!!.  I ordered them along with a new spare tire cover.   This article covers the installation on 'Lil Pup.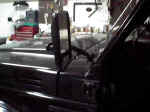 I found that the mirrors could be mounted to the bolts holding the windshield on.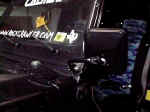 The two arms that the mirrors mount to are different and the longer one goes on the left side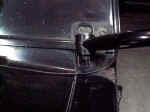 Here is a close-up of how the bracket attaches to the bolts on the windshield mount.

The shorter and straighter arm is for the mirror in the right side.
Here is another close-up of how the bracket attaches to the bolts on the right side.
And here is how the Sammy looks with the doors off and how the mirrors look mounted.
I went to the auto parts store and bought a couple of parabolic stick-on mirrors to help see more to the side.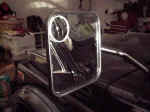 Here is a small one that I have on the left (drivers) side.
Here is the large one on the right side so I don't have a blind spot.
      Here is how 'lil pup looks with both mirrors on.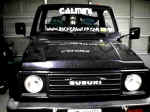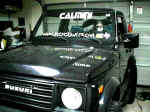 The Steel Horse model number is #7618 and is designed for a YJ.  The Quadratec part number is 13011.02. I apologize for the graininess of the pictures but the light in my garage was not bright enough for the digital camera to get a really good picture so I had to adjust the picture with the computer.
08/11/10 15:02:50