with Jeff Pollock Photos by Bob Norman
ZookiMelt Y2K+1 - Pink Trail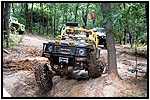 It was that time of year again; time to lead the infamous Badlands Pink Trail for ZookiMelt Y2K+1. We began the day at the staging area planning and sizing our groups for the various trails. After a quick discussion we broke off into our groups and headed to the trails. The second Pink Trail group was going to give us thirty minutes before they headed out so we had better get a move on!
We had a small group consisting of six zooks, just the right number of vehicles to get through the trail quickly. 
Jeff Pollock (Trail Guide) - Black zook with yellow roll cage
Micah Wills - Grey zook
Mark Quisenberry - White zook with external roll cage
Jayson and Jamie Summers - White zook
Bob Norman (Photographer at large) - Blue hardtop zook
Tim Porter (Tail Gunner) - Lime green zook with black stripes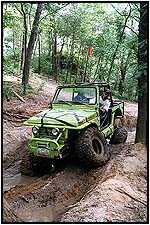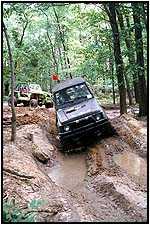 We proceeded to the beginning of the trail where we encountered two big ruts (more like small craters). This year they were barely filled with water, which is a good sign; the mosquitoes shouldn't eat us alive in the creek bed area later in the day. We twisted our way through the craters unscathed and onto the next section, a climb up a small wall.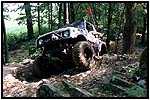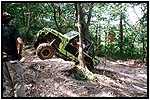 The small wall consisted of rock and packed dirt about 4' tall. Not too bad when it's dry but a real PITA when it's greasy and wet. A quick bump up and over and you are through. The group quickly overcame this obstacle.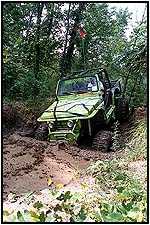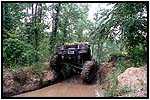 From there we slithered our way through the trail to the next major obstacle, the steep, rutted, hill climb followed by the drop-off into a huge water hole. Up, up, up plunk! Made it! A few tight turns winding through the trails and we were headed into the playground area.