with Larry Harris
Thank You!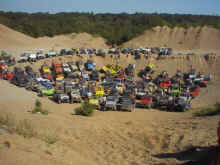 As at least 127 Suzuki truck owners know this years ZookiMelt held at the Badlands ORV Park was a blast! To say it was successful is an understatement. Our grand Pooh-Bah Troy TD Graham pulled together several volunteers including the iZook staff. His mission, make the ZookiMelt the largest most successful Suzuki event in the U.S.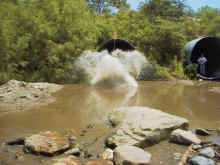 As soon as Melt 99 was over I was on the phone with Troy, "so when is next years event".  He thought I was kidding, nope we had so much fun this needs to be an annual event! This is when planning went in to full swing. Troy started calling in markers. This process is better known as asking for volunteers. He had to round up several trail leaders and enough support staff to make this a flawless event. This is the hard part of putting on an event of this size. You need people to run the trails, but more importantly you need people to get the process started. Someone has to register the participants as they arrive and make sure all their questions are answered,  you need people working behind the scenes.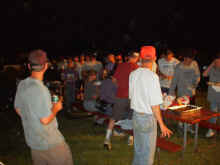 Wanting to help as much as we could the entire iZook staff was very quick to respond to his request for help.  Jeff Pollock started working his phone magic, ever talk to him on the phone? Then you know what I mean. He called all the suppliers of aftermarket equipment for Suzuki and asked if they would like to help with the raffle. The aftermarket answered with a resounding yes! They took leap of faith on a 1st time event and offered for raffle the finest they had to offer from their product line. This was not going to be a little raffle, it was going to  be the longest raffle in Zooki event history!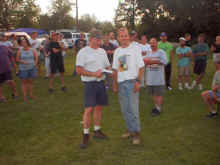 This year we had some last minute fill-ins. Without their help we would all still be waiting at the gate to get in the park.  Jim Mazzola with his wife Kim and my wife Terrina jumped in at registration to sign everyone in.  Clare North and Timmy Cane who had flown in from the UK offered to help with the raffle tickets and Tee shirts, we needed the help.  A very heart felt thank you for taking your vacation time to help us at the tables. I know you could have spent your limited time here in the US on the trails. We really appreciate your tireless efforts at the table. We had a great time listening to the travel stories in the Zook from hell. I still can not imagine Clare ducking down and hiding in the truck as Tim runs off for repair parts. It is people like Tim and Clare  that make events like this worth it! If you ever get he chance to sit down and chat with them, you will not find a nicer couple.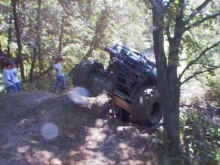 Many of you that attended this years event know Jim and Kim Mazzola. Not only did they help at the registration table they brought the iZook hats. They also helped in many other ways. They took Terrina and I under their wings and taught us the finer points of cooking up 500 hot dogs. Jim also demonstrated his fire fighting abilities over at the BillyBob campsite. All you could see was Jims backside and a burning LP bottle. At many times during the event you could find Jim under someone's truck. You would have been amazed watching Bob Norman and Jim installing the Breeze traction bar in Jeff Pollock's truck, I know Jeff was thankful 😉
We also had several impromptu trail leaders. In the staging area we placed signs on the lead truck, green, orange and pink. As a group would fill we would send them off to the designated trails. Sometime between the parking and the trail head we picked up 10 more trucks. Not a bad thing, but it would make for a long trail ride with 20 or more trucks. When reached the trail head we split into two groups. This is how Fred Lowery, and Rick Lance ended up as trail leaders. In typical zook fashion they never batted an eye. They told us you bet we will help! 
The Raffle, Trophies and the Winners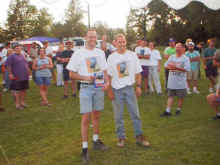 The Suzuki aftermarket vendors were very generous to the ZookiMelt raffle this year.  It was nice to be able to meet some of them. Tim Tacket (North Coast Off Road), Tom and Eddie (Spidertrax), Jeff (Moab Off Road), Tim Porter (HardCore 4 x 4), Mike (Zuki South),  and Ed from (GIRITC) were on hand with product displays and to answer questions. Unable to attend but supporting the ZookiMelt were:
Please let the Suzuki vendors and the Badlands Off Road Park know we appreciate their donations to the raffle and their support of the ZookiMelt!! 
Calmini Mark Signs Tom Wood Drive Shafts Trail Tough Rocky Road Outfitters Canyon State Components Premier Power Products Hawk Strictly Suzuki Off Road Exposure Vintage Suzuki Dave Sport Beanco
With us at the Melt
North Coast Off Road HardCore 4 x 4 GIRITC Moab Off Road Spidertrax Zuki South  Badlands ORV Park Thumbs Up Gifts American Suzuki Association   JeepBox  
Trophies by Beanco Gordito Award Worst stuck Billy Bob Rash Award Most body damage Brian Sieg Dana Award  Most drivetrain damage Rick Lance Stiffie Award Lowest RTI score Dennis Stroot  (repeat winner)  Limp Award Highest RTI score Jeff Pollock Loonie Bin Award Furthest traveled Timmy Cane & Clare North
Raffle Winners American Suzuki Association -   Sport CB and Antenna: Rick Lance   Calmini SR lift system Aaron Zuck Calmini Drop pitman arm: Tim Lucas Calmini Birfield Cups John Butler   
 Canyon State Components
Wrangler Spring Rear Bracket Kit Timmy Cane  Canyon State Components Wrangler Spring Rear Bracket Kit Butch Swarner  
DaveSport 
Roll cage David Ising   Badlands ORV Park Annual Pass Troy Graham Badlands ORV Park Annual Pass Bill Maulding Badlands ORV Park Annual Pass Claude Reeder Badlands ORV Park Annual Pass Ben Klaves   GiriTC $100 off Premier welder Joey Floyd GiriTC $100 off Premier welder Shelly Pollock GiriTC Winch rope Bill Maulding GiriTC Suzuki Watch Dennis Stroot   GotZuk.com  Expander shackles Dave Ising 
GotZuk.com
Diff breathers Blake Savage GotZuk.com Diff covers Adam Williams GotZuk.com Quick release straps Charlie Hagen   Hardcore 4x4 and Custom Fabrication  Skid plate Tim Lucas Hardcore 4x4 and Custom Fabrication  Hat/decal Bill Maulding   Hawk Suzuki $25 Gift certificate James Hiers Hawk Suzuki Sweatshirt  Claude Reeder Hawk Suzuki $25 Gift certificate Rick Lance
Hawk Suzuki 
Bikini top Donald Miller   Jeepbox  Jeep box Diamond plated storage  Rob Wilson   Moab Offroad Tow strap Reggae Fiechtner Moab Offroad Tow strap Jeff Chester Moab Offroad WARN 8000 Winch Ryan Primel   North Coast Offroad Breeze Crossover steering Claude Reeder North Coast Offroad Breeze Drop shackles Dale   Offroad Exposure Got Zuk 2000 video Jeff Chester Offroad Exposure Got Zuk 2000 video Jeff Stoess Offroad Exposure Clayton, OK video Mike Dugan Offroad Exposure Clayton, OK video Mitch Fiechtner   Rocky Road Outfitters Rear Crawler Bumper Anderson Williams Rocky Road Outfitters Fold-down w'shield kit Brian Dow Rocky Road Outfitters Shock  towers Zeb Holder Rocky Road Outfitters Greasable bushings set Grant Reuther   Spidertrax Shifter knob Clare North Spidertrax Rear Disc brake kit Tim Evans Spidertrax T-shirt Jessica James Spidertrax T-shirt Earl Roab   Bryan Steagall, Metalsmith Sterling Silver  Rings Earl Rolape   Thumbs Up Gifts Customized Fleece Blanket Rachelle Champoux   Tom Woods Custom Driveshafts  T-shirts Given out to various attendees   Trail Tough  $100 Gift certificate Dennis Stroot
 Trail Tough  
T-shirts
Ralph Painter, Tom Wilhelm, Rick Lance, Dennis Stroot,Joey Floyd, John Landis, Clare North, James Hiers, Bob Norman
  Vintage Suzuki  Mild-to-wild T-case brackets Tim Porter   Zuki South Skid plate Tim Porter Zuki South Zukn at Tellico video David Ising Zuki South Zukn at Tellico video Rick Lance
ZookiMelt Rally  Rally winner Mark Forenbaher  
Hope to see you there next year! 
08/11/10 15:32