Master Pull's Winch Rope and Chafe Guard Review with Jeff Pollock
At the ZookiMelt 2002 I really put my Master-Pull winch rope to the test. It performed flawlessly and I found out just how much better it was compared to the steel winch line I had used in the past. There were no worries about slicing your hands on metal burrs while spooling in the rope and it was a lot easier to handle when dragging it to the anchor point. No more fighting with the steel line which always seemed to want to stay on the winch. Bottom line on the winch rope, it works great!
While at the Melt I did not have any problems with the rope other than I used it more than I wanted too. At home while I was re-spooling the rope I found that the ropes attachment loop was broken so I quickly made a call to Emil at Master-Pull. After I had explained what was wrong he said that they had problems with the original smaller attachment loops and they now have a remedy for that problem so ship it to them. I quickly boxed up the rope and shipped it to Master-Pull. 
I waited a few days and then called them to ensure they got the rope and everything they needed was there and spoke with Jim. As we discussed the rope we also talked about their rope chafe guard. He said that they had just changed their material for the chafe guard, which is more durable than its predecessor. The old style of chafe guard was just fabric while the new one is a synthetic material designed to withstand abuse. I asked them to throw one in with my rope when it was shipped back. No problem (since I had paid for shipping which they were going to reimburse).
Within a week and a half (due to shipping), I had my rope back with the new beefy attachment loop. All I can say is I am truly pleased at the excellent service I received!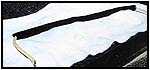 I quickly opened the box to see the new colossal loop and improved chafe guard. The loop looked great and the chafe guard was interesting. The chafe guard is a 3 long heavy sleeve that slides over the rope to protect the rope from fraying while it rubs against rocks or other sharp objects. It is not intended to be used in place of a tree saver strap.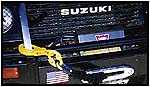 To install the chafe guard is very simple. Just remove the winch rope from the drum and slide the guard over the rope then re-attach the rope to the drum and you are ready to go. See rope install. The chafe guard stays on the rope so you do not have to worry about storing it somewhere in your zook.
I cannot wait to test out the chafe guard, which hopefully will be sooner than later!
Source:
Master-Pull, LLC. 4181 W. Maplewood Ave. Bellingham, WA 98226 (877) 797-0202sales@masterpull.com
08/11/10 14:55