with Jeff Pollock
Livingston, KY 1999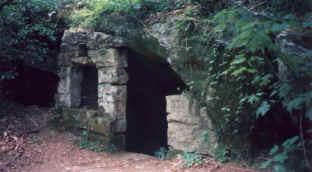 Unlike most trail reports this is a write-up about a few four wheelers not a large group getting out to do some exploring and rig testing in a beautiful yet challenging area. Its mainly about wheeling with good friends and covering some good trails without the typical my rig is better than yours nonsense that seems to go on more and more nowadays.
Saturdays Ride
As we, Tim Porter and myself, drove four hours down I-75 towards Livingston, KY, the weather forecasters were forecasting temperatures in the upper 80s - lower 90s with clear skies for the weekend. This ought to be a blast!
We met up with our group at the beautiful Levi Jackson State Park Campground. The group consisted of ...
In Attendance   Dave Armstrong Slime Green CJ-7 John White CJ-5 Grayden White Wrangler Jeff Pollock/Tim Porter Black Samurai Mike Minner Blue Wrangler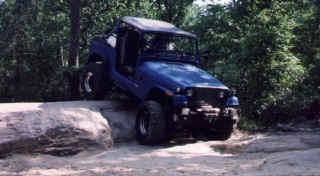 After we were introduced to the new guys, John and Grayden, we headed to the staging area. Once there, we fueled up and aired down since the trail is only 1/8 of a mile, if that, from the gas station.
We proceeded up the trail entrance dodging quad runners, sandrails and dirt bikes until we came to the first set of stair steps. The steps are not too radical but if youre not careful they can make you tippy as others have found out in the past.
After negotiating the stair steps and testing our departure angles, screech, thud, we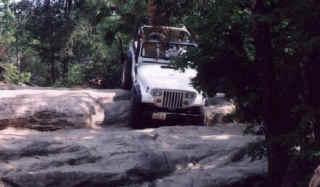 moved on to one of my favorite obstacles, the V-notch. It seems that every time we come here this obstacle looks bigger and bigger. This is one of those obstacles where its all in picking the right line. You pick the right line and youre up and over, if not, you are up and OVER if you get my drift?!?! This spot has claimed many body parts in its days.
Just after the notch there is a big stair step we must go up so the next guy will have some room to maneuver but as I attempted to get over it I heard a loud pop, pop, pop, and Dave yelling "stop somethings flying off your rig". Sure enough I had sheared all of my hub bolts. The hub slid right off into Porters hand. So much for the c-clip! We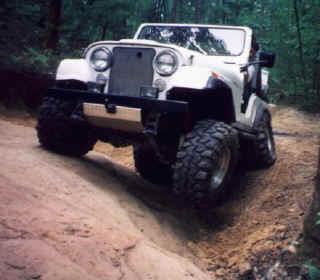 just replaced the whole spindle assembly since the bolts were sheared off inside the hub. In no time we were on the trail again.
The terrain after that is just fun with a lot of twisty, off-camber sections of sandstone. There are a few real good places to test suspensions too. As we continued down the trail there were a couple optional climbs. John (CJ-5) decided he was going to hit one of the side obstacles so we watched as he made his attempt. It was a steep set of stair steps with a little bit of an off-camber angle to em with a few loose rocks. As he was attacking this obstacle he grenaded his rear u-joint and then his right front brake line went south. John needs to thank his lucky stars for the mechanical emergency brake or else he wouldve fallen backwards off the stair steps and into a tree. After removing the driveshaft it was clear that the yoke was damaged. Luckily he had another tube with him. After we sized up the driveshaft to ensure it would work it was clear that the spare tube was way too long. Dave grabbed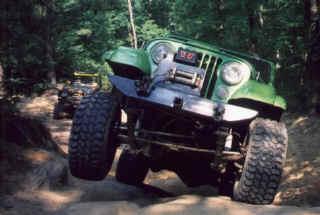 his hacksaw and a spare brake hose and handed them to Porter. Its amazing how straight Porter cut that driveshaft tube. They assembled the driveshaft and it worked. Once the brake hose had been replaced and the brakes were bled we were back on the trail roughly an hour later.
The next spot we went to was the area the locals call the playground. It is an area with steep muddy climbs out of a creek bed with some ruts mixed in here and there. Mike lead us here in hopes of finding some rocky hill climb hes been wanting to do. I believe it is called Falcon Hill. This trail is supposedly a long, rocky hill climb some 400 yards long. Ive never seen it so Im just repeating what I heard. We searched the area for an hour or so but we couldnt find it and it was getting late so we proceeded to head back to the staging area.
As we headed towards the staging area there are some steep sandstone climbs to play on. There are all kinds of climbs, long ones, short ones, off camber ones, you name it. Dave in his Slime Green CJ-7 was messing around on a few climbs so Porter told me to do one he had done last time there. I wasnt too sure about this one, but I said what the heck, Ill try it. As I made my approach and saw nothing but sky I hit t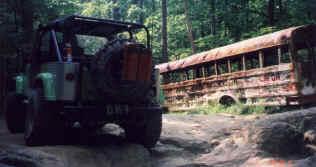 he gas a little early and bounced the front end up and all I could hear was Porter saying, "clutch, clutch, oh no, were going over!"
After the flop we were just hanging there thanks to the R. J. S. harnesses and the stout roll cage Porter had build. We quickly got out of the zook and flipped it back over so the rubber side was on the ground. I think it took us all of 20 seconds to flip it back over, not bad for being in a little bit of shock. As for damage, it really wasnt bad at all. The hood was messed up pretty good, the targa bar was ruined, the windshield, still together, was spider-webbed, the side mirror was shattered and when we flipped the zook back over, we cracked the fender flares. We checked the fluids and plugs and tried to start it. It fired right up and we were moving again. Zooks take a lickin and keep on kickin!
That night at camp we removed the windshield frame so that we could run the next day. Actually, I think the zook looks a lot better without the windshield, maybe this will be permanent. My only worry about this whole flip-flop ordeal is what my wife is going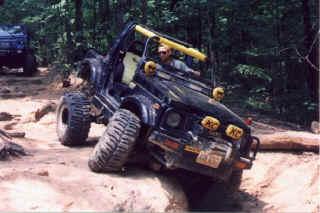 to say or do when I bring the zook back all banged up. Oh well, I guess Ill just have to wait and see. At least it still works so this may be my saving grace.
Also that night I had to pull the front axle housing apart due to the snapping sound of the front locker. By the time I got it all apart it was dark out and quiet time was quickly approaching so it was time for a shower and then to bed. Ill finish it in the morning.
Sundays Ride
That morning after checking the locker out we found it to be fairly chewed up. I didnt have a spare locker so we just threw this one back in and hoped it would hold together. I finally finished re-assembling the front end we were ready to head out for breakfast and then the trail. It was around noon by the time we got out to the staging area but we still had plenty of daylight to hit the trails.
As we were lining up for a group shot, John noticed he was leaking gear oil. After a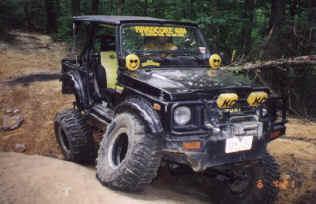 quick inspection the problem was found. He had peeled the cover back on his rear differential while on the trail the previous day. Grayden went to work pulling the cover while John took Graydens Wrangler into town to get gear oil. Since they said they could fix it we headed out to the trail and told them where we were headed. They said theyd catch up to us.
We decided we would go to an area where there werent as many bikes and quads so we headed towards the "log cabin" trail. As we were heading down the trail Mike spotted a little cave in the distance so we hiked on over to it. It was awesome. Someone had built a couple of walls and incorporated them into the cave making a nice shelter. After tinkering around there we got back on the trail and followed it to a log cabin that someone was building and then it looks as if the project came to an abrupt end. Unfortunately, it is now just a place for people to throw their trash and deface to beautiful landscape. Just look at this mess! This is what ruins it for everyone.
Proceeding down the trail Mike noticed that his right front shock was banging around and asked us to take a look. He actually pulled the shock in two so we took a break while Mike removed the shock and threw it in the back of his Jeep.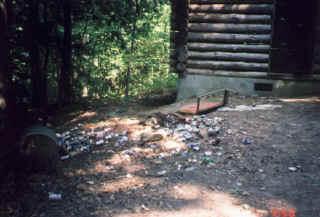 From the log cabin trail we decided to run the School Bus trail. Its wild to think there is a complete school bus, drivetrain and carcass, up on one of these trails as rocky and tight as they are. Who put it there and how did they do it? The approach to the actual school bus is awesome. A large sandstone rock at a nice little 45 degree angle slanted to the left. As you go up the slab you slide to the left into a deep rut with some various sized rocks. This is definitely one of the better obstacles. After we got through this spot we decided to head back to the staging area so we could go home cause we still had a four hour drive and it was almost 6pm.
On our way out Porter spotted a small lizard and jumped out of the zook to try and catch it. Swish and it was gone, fast little bugger wasnt it?! Porter says wait he sees something else so he flips the log over and there sits a Timber Rattler! He starts to look for a stick cause to catch it but after Mike and I tell him to leave it cause were not going to suck the poison out if he gets bit he decides to leave it alone. Or did Porter get back in the zook cause the snake curled up and began rattling its tail, not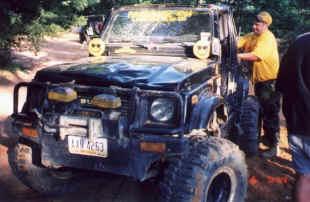 sure! Just remember be careful wherever you wheel cause you never know what youll come across out on the trail.
As we were leaving Dave decided to play around on some more steep hill climbs so we let him play for another 15 minutes and then were outta here. While watching Dave three local zooks appeared from another trail but unfortunately we ran out of film so we didnt get any pictures of them. Maybe next time we go back there we can wheel with them and then well get some good action pictures.
Breakage/Carnage
Black Samurai
Sheared the right side hub bolts liberating the hub to explore on its own. It kinda reminds me of the song by Tom Petty, "Free Wheeling " or something along those lines...
Endo (backwards rollover) causing some body massaging! The hood was massaged along with the windshield and targa bar. It also suffered broken fender flares on the drivers side from flipping it back over onto the rubber side.
Jeep CJ-5
Broke a rear u-joint and the mangled the yoke along with the left front brake hose.
Blue Wrangler
Pulled the right front shock apart. You could say it had to split!
Endo!
08/11/10 15:27