Jaz 16 Gallon Fuel Cell with Jeff Pollock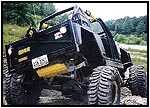 Have you ever run out of gas while wheeling? What about the tank running a little too low for comfort? Or wheel in an area where the nearest gas station is 20 to 30 miles away?
Well, for those of you who aren't afraid of removing some sheet metal and modifying the body of your rig there is an option, the Jaz 16-gallon fuel cell. The fuel cell is composed of a polyethylene outer shell with aircraft foam inside. The fuel cell measures 25" wide x 17" deep x 9" tall, which fits perfectly between the rear inner fender wells of a Samurai. This model comes with a GM sending unit (0-90 Ohms) and I highly recommend using a 2 1/16" round Autometer fuel gauge which installs perfectly where the factory clock used to reside in my 1987 zook dash.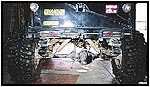 Unfortunately, the photos did not turn out for clear enough for an installation article, so let me review the benefits I have found in using this fuel cell.  Having the additional fuel adds some more weight to the zook but it sure is worth it in my opinion. I can now run all weekend and still have plenty of fuel to spare. Another benefit of this swap is the fact that the rear differential does not contact the gas tank. This has been a problem for my rig for the past couple of years since we moved the rear axle back 1.5". This is because we installed the fuel cell in the bed area of the zook rather than having it underneath near the differential.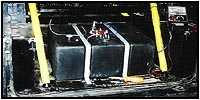 As I stated earlier, if you are not shy about cutting sheet metal to increase your zook's fuel capacity and stop the constant teeth rattling diff to gas tank contact then the Jazz 16-gallon fuel cell is the way to go.
Parts required for the installation:

Fuel cell (of course!) - Jeg's Part#: 547-252-016-01
1 - barbed fitting for the fuel return line
1 - Plug for the dual ports (AN-10)
1 - fitting for the feed fuel line (AN-10)
1 - check valve for the vent in case of a rollover (AN-8) 
Installation kit (straps to secure the fuel cell)
Some extra 3/8" fuel line hose
Autometer 2 1/16" Electric Fuel Gauge - Jeg's Part#: 105-3314
You can get your Jazz 16-gallon fuel cell at Jeg's High Performance.  (800) 345-4545
Special thanks goes out to Doug Jennings of Tiger Auto for the installation of the fuel cell and his hard work fine-tuning my dual Weber side drafts. (937) 259-6800