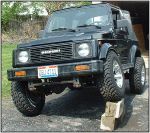 JackMate with Bill Johnston
Remember when you got your first Hi-Lift Jack? You figured you could do just about anything with it, right? Then you found out the 'bolt on' top jaw wasn't as strong as the rest of the jack. And you found that it was easier to leave the base disconnected all the time because it was a pain to re-seat the retaining pin. And then you found out that the jack was a bit unstable when you were on anything but a flat surface…
The capabilities list for the JackMate only starts there. It gives you the full capability of the jack when you need to clamp (or winch) or spread the unit like a 'jaws of life'.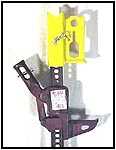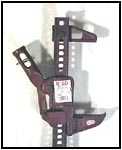 It replaces the old bolt-on top jaw with an easy to use retainer pin (held in with a quick release pin for safety). This also allows you to take advantage of the full capability of the jack instead of the strength of the little 'bolt-on' top jaw. The purpose-cut holes also allow the use of a large clevis or a length of chain to secure the end while winching with the Hi-Lift.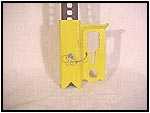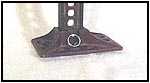 You can still use the original base plate. But the little in that holds it on can be a pain when you remove or attach the base.  The JackMate comes with a new retaining pin to make things easier. Just pull the pin with the attached ring and the base falls into your hand. Replace the original base with the JackMate so the spikes face down and you have a base that will hold it's own on the wettest logs or rocks.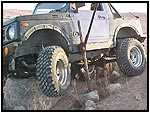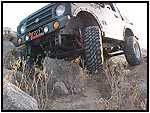 Oops, stuck on a rock. Grab the HiLift and find a flat rock to keep it from burying itself in the soft sand or dirt. 
Couldn't find a rock that was flat enough? Don't trust it if it doesn't seat properly. The JackMate grabs the rock and won't slip like the flat foot of the original base plate. The retaining pin and clip are attached to the unit by a steel cable that is threaded through the steel plate. With the clip on one side and the pin on the other, it won't pull through so it won't get lost.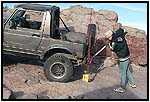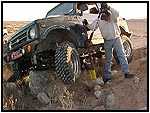 The JackMate doesn't take up much room and can be stored with your jack. It is a great addition to your trail gear. For more information on the JackMate and other Rescue 42 Inc. products, visit their website and they will provide a list of dealers in your area. Source:
Rescue 42, Inc. 3060 Thorntree #80 Chico, CA  95973
Voice:       (530) 891-FIRE (3473) Toll Free:  (888) 427-3728 Fax:           (530) 891-9255
08/11/10 14:54