with Rae Champoux
Indiana Fab Fest
Editors Note: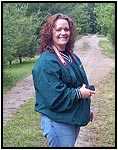 Mitch and I had planned on going to Ohio over Memorial Day weekend to pick up some aftermarket parts from North Coast Offroad so that we could put the Zuk back together for its first voyage out of the garage since fall of last year. We got a call from Tim Tackett with somewhat bad news. Tim said that he was sorry to say that some of the parts that we were going to pick up were not going to make it to his place in time for him to go to Ranger Rick's Fab Fest. Tim was having some components drop shipped to Rick's house and that included some parts that we were dire need of. So, we made the call to drive to Rick's on Friday and maybe spend the night but we were going to try to come home on Friday. We took our car instead of our towing truck with trailered Zuk on it, since the truck was not together enough to wheel it. If we didn't run into any trouble we would make it home in time for Mitch to get the parts on the truck and take it wheeling. We were only at the Indiana Fab Fest for a little over twenty four hours. I t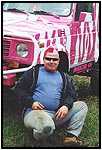 ook two rolls of film of some of the goings on and a few folks in attendance before We left to drive home. Unfortunately I did not get the chance to meet all of the people that finally made it to Ranger Rick Hall's house for the event. I have asked my dear friend Lewis Scherer, known to all as Billy-Bob, to help me recap the events of the weekend. This gathering was by far one of the best events my husband and I attended this year and we didn't even have the Samurai with us! -R.C.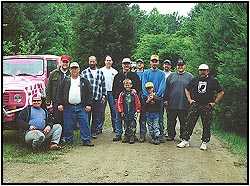 The Fab/mud/freeze/rain Fest in Indiana at our gracious host Ranger Rick Hall's House. First of all, I don't know what was told to his lovely wife Rita before my arrival, but she expected something of a clown when I arrived. I had not cut my hair since the Zuwharrie run in April before Fab Fest. So, just before leaving for Fab Fest I shaved my hair as everybody knows. (Billy-Bob's hair was cut in kind of a spiral tri-mohawk and painted hot pink. -RC.) I arrived at Rick's and it was sunny, warm and turning out to be a very pretty day. I pulled out into Rick's field n started settin up base camp (a.k.a MoBiLe HiLtOn) and things were going great. Next to arrive would be John a.k.a. SUZUSKI (Off-Road.com BBS name -R.C) in his exploder (Ford Explorer -R.C.) towing his Zuk. We unhooked his rig n sat round shooting the bull. Later Rick got home n we all went for a ride on Rick's trails. While on his trails, Trailwalker (Off-Road.com BBS name -R.C.) arrived towing his Zuk. So, we took off back up the hill n began getting Trail unloaded. We got his trailer parked out of the way and went off for another short trail ride. First trail carnage of the weekend, I ripped off my passengers side mirror. OH well! Got ten more at home. We ended up going back up n unloading all of Trailwalkers goodies into Rick's shop. Had to park Rick's hot pink rig outside with a tarp on it. We had started tearing into Trail's rig on Thursday evening some. Sometime during the day on Thursday Rita, Rick's wife, brought their granddaughter n daughter down to the garage to meet me while Trail and I were working on his rig. We had just hooked up my TV and VCR n put in a tape to watch. I seen Rita coming and she had specified earlier that I just had to meet her daughter n granddaughter with my teeth n hair do. Well, I seen them coming so I made a dash for my teeth which were on top of the VCR which was on top of the TV. I got them in and turned around. No matter how weird or strange I must have looked, Rick n Rita's daughter was a very polite and pleasant young lady, fully what you expect from an adult meeting new people. BUT Brittany was caught off guard a lil bit I think. Her mom kept askin if she seen something different about me. She said yeah, he has fire on his shirt. I had on a T-shirt with a '57 Chevy on it with a nice flame job. Well, I asked her, "Do ya like flames?" with my tongue tucked up on my teeth so I sounded very slurred like a drunken stoned hillbilly. She answered me, we talked for a few secs, then I excused myself, told them I wanted to turn off the VCR so that I could hear them and we could talk. I turned my back to them and spit my teeth out, hit stop on the VCR and turned back around. Brittany's momma was almost shocked, she had thought that my teeth were completely real. By now, poor Brittany was doing everything she could not to bust out laughing and rolling on the floor. 
You could see her lil grin tryin to pop out and go to both ears, then she'd control it, the smile/grin would disappear only fer a sec, then it would start up again. The poor lil thing was a perfect lil angel. Me n Trail knew she was on the edge of cracking up, but she held her composure. On their way back up to the house I heard Rick's daughter say that she thought those were my real teeth! Imagine that!!!!!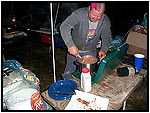 Eventually, we called it a evening n went up for a nice dinner of soup n a steak. Rick being the gentleman he is took his wife up a bowl of soup which I brought n a steak, which Trail brought. She returned many wonderful compliments to the chef the next day. (Billy-Bob is often the chef at events and I am here to tell you that he makes the most wonderful meals on a gas grill! R.C.) Shortly after eating we all turned in for the night.
Friday morning, more arrivals, couldn't even begin to tell the names of who all arrived. By now it was getting cooler and the wind was blowing more. We had breakfast of biscuits, gravy, sausage and other good heart attack inviting goodies. Oh well! it was good and that's what counts. Well, we headed down to the shop to start work on Trails rig again. (They guys were busy installing a Canyon State Components YJ kit on Trails rig. R.C.) We were making progress, then the wind kicked up and it started to rain. Well, the rain was beginning to come in Rick's garage and this can't work out cause it's beginning to go right under Trails rig and that is where we were workin. Soooo, I grab a madock and start diggin out the drain trench so that the water will drain out of the garage instead of inside, even laid a battery in it to help redirect the water. We managed to get it to divert and keep the garage dry. Right about now, we noticed that Rick's rig was uncovered. The wind had blown off the tarp we had over the top of his pink Zuk. We had to run out n cover it up. Trail was completely oblivious to John n Me out covering Rick's rig up and trying to keep the HiLtOn in one piece as the wind was really whoopin around n blowing down the canopy. Well, as the worst of the wind and the rain let up, only then did Trail come out and help. He had not even realized that we were gone. Well, time to reassemble the HiLtOn/tent city, try to dry the cookin towels, paper plates and other utensils that were now soaked. Got it all up again and headed back to the garage, through two inches of water standing on the road and the squishy mud under my feet to work on Trails rig.
08/11/10 15:30