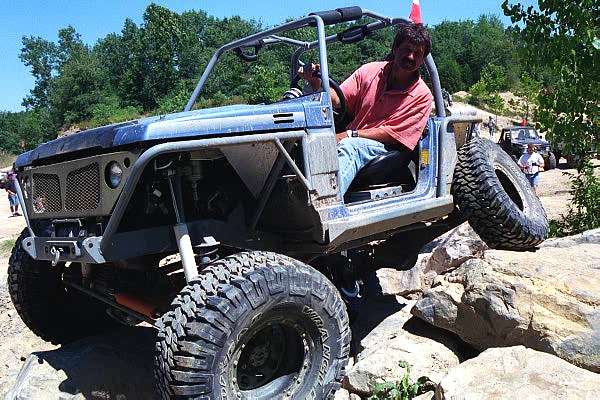 with Jim Bova
Yankee-Offroad Samurai Hood Latches
Have you ever had to open your hood in a hurry and had to search through a glove box full of junk? Or been in the nose up attitude and opened the glove box and had all that junk fall out onto your passenger? Well http://www.yankee-offroad.com has solved the problem with their new Samurai Hood Latches.
These are all the pieces included in the kit required for one side installation. The kit contains enough pieces for both sides
Lay a piece of masking tape to the rear of the side marker lamp up and over the fender. this will be used to mark the location of the holes for the bottom pieces.
Put a tape measure along the top of the fender from the rear of the fender where it meets the cowl forward. See picture.
This is the measurement from the cowl for the bottom bracket.
This is the measurement from the inside fender lip for the bottom bracket.
This shows the holes drilled. (Tip: Slot the holes slightly to allow a perfect fit)
Mount the lower bracket and secure the hold down with the pin, washer and cotter pin.
Use the plates supplied to mount the bottom and top brackets. (Tip: use a little silicon to prevent water getting under the brackets.)
This is a view of the completed hood latch. Looks great and very functional.
Another view of the completed latch.
Note: A cotter pin is supplied in the kit to allow you to drill the stock hood latch and pin it so it does not latch requiring the use of the inside handle release. I did not do this step seeing that I have no garage and often leave my Zook on the street and want to be able to lock the hood. I simply don't slam the hood when I don't want it to latch. Contact http://www.yankee-offroad with more info on the pinning.)
The Samurai Hood latches hold very securely. Installation is not difficult if you take you time and measure accurately. Also these are the measurements I used for where I wanted the Hood Latches to be on my hood. You can move the latches anywhere you desire on the hood. If you have any questions contact yankee-offroad or email me at redidbull@hotmail.com.
08/11/10 15:02