Heavy Duty Transfer Case Mounts ...continued.
After parking the rear tires on a set of car ramps things were a bit easier to get at. When looking at the mount from the rear of the vehicle it seems an easy replacement... until you remove the mount retaining nuts and realize that there isn't enough room between the frame and the body to slide the old mount out. I found it easier to remove the bolts at the other end of the short arm from the transfer case while using a block of wood and a floor jack to support the weight of the transfer case. Make sure the case is held firmly in place and the floor jack won't roll. Safety First! Then you can remove the mount bushing from the short arm easily. Replace the short arm on the transfer case right away.
Don't try installing the new heavy duty t/case mounts while the short arm is removed. It may look easier, but the bolt must pass through the frame before going through the short arm. This keeps the threads pointing up and away from harm when those sharp rocks reach out for something to grab and mangle. Many of us use a quality skid plate to assure t/case longevity, but pointing the threads up also gives the installation a cleaner look.
Once the arm has been replaced it is time to install the new mount. Using the same floor jack and wooden block combination, the transfer case was lifted enough to place two new bushings in place of the original.
If you have the bolt/washer/bushing combination ready (see photo to the left), use it to line up the bushings from underneath. While holding the bolt firmly in place, place th final bushing on top of the short arm followed by the washer and nylock nut. Let the transfer case rest it's weight on the bushings to compress them. This makes it easier to spin the nylock nut onto the threads. In the photo to the right you can see the marks left by the stock mount when it slammed into the body (over and over again...). 
Tighten the fasteners to the point where the distance between the frame mount and the short arm is 1-1/16". This puts the transfer case at exactly the same level as stock. The kit comes with instructions and a couple of those wild looking Spidertrax stickers.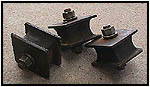 Remember the stock mounts that were removed? If they are in decent shape - put them in your 'spare parts' box for the trail. You won't need them, but a buddy out on the trail that hasn't upgraded will be thankful for the parts during your next trail ride...
Manufacturer: 
Spidertrax Offroadwww.spidertrax.comvoice - 1-800-286-0898 email - tech@spidertrax.com
Sources:
PetroworksBox 848 Fallbrook CA 92088www.petroworks.com1-800-952-8915 Orders 1-760-731-9434 Tech & Questions
Rocky Road Outfitters P.O. Box 681245 Park City, UT  84068 www.rocky-road.com 1-888-801-7271 Orders 1-435-783-2990 Tech1-435-783-4355 Fax
08/23/10 14:04