with Bill Johnston
Habenero Falls, Las Cruces, NM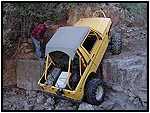 Habenero Falls is a short but treacherous trail north of Las Cruces, New Mexico. It is named after a blistering chile pepper that leaves you feeling the effects for a long time afterward. The waterfalls and rock ledges on this trail have the same effect on your vehicle. This trail is listed as 'extreme' by the locals, so fair warning for the faint at heart - and for the more adventurous folks - Bring it on!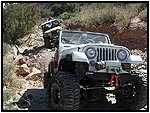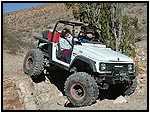 The group of vehicles for this particular adventure is a mixed bunch of enthusiasts that have come from far and wide to try their luck at the well known rocks of Las Cruces. The trail leader was Max Bennett from the Las Cruces 4 Wheel Drive Club. He has been wheeling these trails for a long time. He led the trail driving his highly modified CJ-7. Coming in all the way from Memphis, Tennessee  was Tim Justice and his wife, with their caged, flatbed, VW diesel powered Samurai.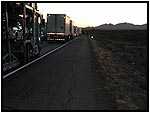 Desert highways really suck when there is an accident. There is no way around, so you wait for hours with nothing to do. This is what happened to Chris Villarreal on his way to Las Cruces in the (very) early morning before the run. When he finally made it to the meeting spot, the group had already headed for the trail. For anyone that has driven these trails, they can attest to how hard it is to find them. Chris unloaded his bright yellow Samurai and headed for the canyons and found us on the first try. Amazing!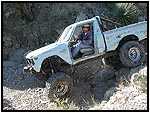 When was the last time you saw a Chevy Luv out on the trail? How about one outfitted with dual transfer cases and a PTO winch? Greg took this rig through everything the trail had to dish out and it rocked every obstacle (pun intended). Greg is a member of the Desert Mountain Four Wheelers in Alamagordo just northeast of Las Cruces, so he knew what to expect. Since most folks aren't used to a little 'LUV' on the trail, he has 'Not a Yota' written across the front of his hood!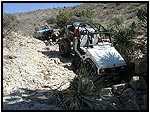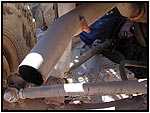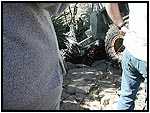 Even the trip out to the trail had some tricky spots. Above, you can see where Tim came down a little hard on a radius arm for his quarter elliptical rear suspension. The force of the drop ripped the front bracket off of the frame and had to be welded back on to continue the day. Max's CJ7 has a Premier Power Welder under the hood, so after a little imaginative re-engineering Tim was ready for the rest of the trail.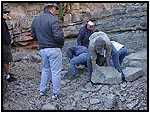 The trail is mostly a series of seven waterfalls. They are very difficult, so it is not unusual to find them stacked with rocks by the folks that didn't come equipped to handle the challenge. Here you can see us cleaning out those rocks in order to run the trails correctly. Stacking rocks isn't really a sin if you have to, but a good 'wheeler will move those rocks back off the trail once they are through. Remember - Leave the trail as you found it or it will become a highway. Then the challenge is lost.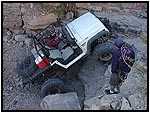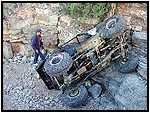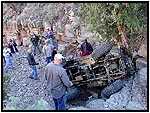 Tim went after this waterfall with a line that was slightly off. That's all it took and the flatbed rolled gently onto its side. We heard a small yell, but then found out it was only a bag of unsecured Doritos that had taken Tim by surprise as it glanced off of him on the way down. No one was hurt and the vehicle only suffered slight hood and fender damage. Good thing zooks are easy to roll back over with a few folks to help lift. 
08/11/10 15:36