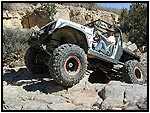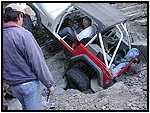 Most magazines show pictures of vehicles that have tires lifted to the heavens, ready to tip over. This trail needed just the opposite technique. The more traction on the ground the better. Good articulation as well as strong axles prevailed.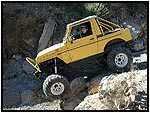 Both of the Samurais on this run were using Toyota axles. It seems to be another trend. Both rigs also showed lots of flex too. They impressed many of the non-zook crowd as they took the obstacles with the best of them.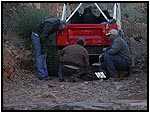 Always be careful what you anchor to when you have to winch out of a bad situation... The rear bumper on Max's rig came completely off during a winching recovery for one of the other Jeeps. Again, no one was hurt when it came loose because they knew what to do, used proper recovery techniques and paid attention to what they were doing.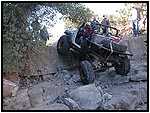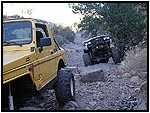 Pictures don't do this trail justice. The photo on the left shows the front of the LUV coming up over a waterfall, but what you don't see is the 'almost vertical' ledge it is climbing. On the right, Tim is taking a line that was described as "drive up into the (side) wall (of the canyon) and then turn right before you tip over". And we do this on purpose? ...yup.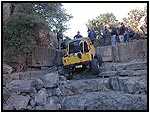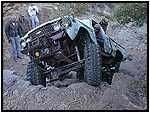 Coming to the last of the waterfalls, it didn't seem to get any easier. Key things to remember; Tie everything down with a good strap - even the chips, Overkill when building a rock rig isn't a bad thing, and a roll cage should be designed to do just that. Remember, you can't rebuild your rig if your dead.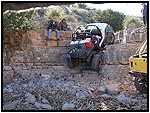 After the last waterfall, there was a play area to mess around on. This was a larger area where there was more elbow room and a few obstacles to play on.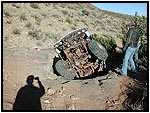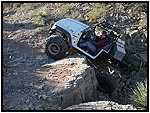 A great time was had by all with no significant damage (except for the Jeep bumper...). We finished the trail by about 3pm and had the rigs on the trailer by 4. This in itself was pretty good, considering that the group had just done Roccotillo Rapids* that morning before Chris got there!
*Roccotillo Rapids is an extreme trail that was used during the ARCA championship series earlier in the year. A five hour trail done in 1.5 hours by our group...  but that's another story! Stay tuned. 
08/11/10 15:36