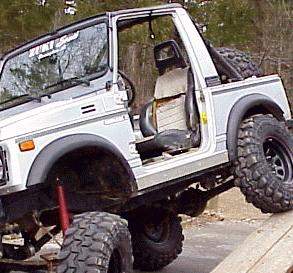 with Bill Johnston
Let's make it Rock!Part 5
You have seen the Gray Ghost move from 31″ tires to 33's, but there was still more we could get out of it. The 33's were wide and heavy, so time for a big departure from the norm (as if we haven't done that over and over…). We wanted to get some more air under the differential for more clearance, but without adding more weight to those axles. Time for Pizza Cutters!
Going with a set of Interco Swamper SX's were a no-brainer for taking on the trails down in the desert southwest. The only big choice was the size. The tires had to be tall and aggressive while staying relatively light and easy to maneuver. 
The tire of choice ended up being the Interco Super Swamper SX in a 34×9.50. It was amazing how much of a height difference there was between the two sizes. The 33's actually measured in at 30.5 While the new 34's topped out at 33.5″. Take a look at the picture and you will see just how much that really is!
Clearance under the pumpkin increased a full inch and a half. Doesn't sound like much until you hit the trail and realize that you aren't 'taping' the rocks as much as they disappear under the vehicle. You can still see the 31″ spare in this photo, don't worry, it got replaced with a new SX at the same time. We noticed the skinnier spare also helped out the departure angle!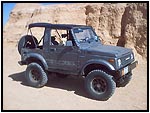 Starting with 31's
…then on to 33's
and finally 34's
We put a very stock looking 88.5 in front of the Ghost to see the difference in height. Looks impressive, but then you have to consider something we didn't tell you… The light blue 'stocker' in the picture is sporting a set of 31's with a 3″ spring lift…
Tons of clearance now, see you on the trails!
Project Component Sources (in alphabetical order):
Andy's Samurai Steering
Hawk Strictly Suzuki
Petroworks
Roadless Gear
Rocky Road Outfitters
Spidertrax
Trail Tough Products
08/11/10 14:53