Going Small! written by Bill Johnston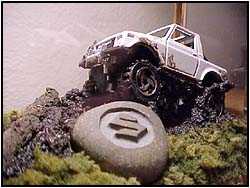 Here is one time when you can end up with an awesome display and not have to turn a wrench to get it. Don Olson will custom build you a zook along with a clever place to show it off!
Looks like Suzuki left their mark on the boulder, right? Don strikes again. If any of your friends have a problem figuring out what kind of vehicle it is, then the boulder can set them straight.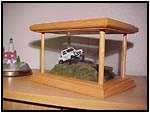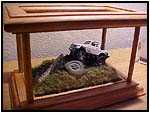 Real glass makes it easy to see the scene that Don creates. Complete with foliage and some pretty realistic mud, you can watch your vehicle tackle the trail without having to hit the carwash on the way home. The wooden case is well made and a nice addition to any den or living room. 
My wife complains sometimes when I bring strange vehicle parts into the house. When she first saw the diorama she told me that this was the first vehicle related item that she didn't mind having in the living room!
Why? Because it looks classy and it's easy to dust.  I love it because it's just plain cool! Check out Dons website to see a few of his other creations. You can also fill out his contact form and see if he can replicate your Zook!
Source:
Don Olson www.enclosedmotorsports.cominfo/orders: (763) 576-9139Email:  don@enclosedmotorsports.com
08/11/10 14:55