with TD Graham
The Ultimate Rash:  Dakota Territory Challenge 2001 The Trip That Just About Wasn't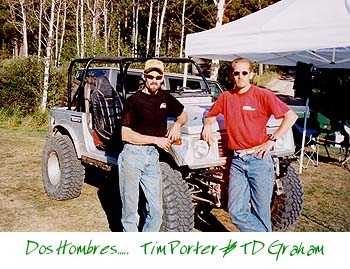 At the nagging of friend and fellow staffer Bob Norman, I signed up for DTC in the spring of 2000 and recruited 'Wild Turkey' Tim Porter to right seat the trip.  Wait a moment, 2000?  Yep, 2000.  Smokey The Bear had other plans and the 2000 event was cancelled at literally the last minute due to forest fires in the Black Hills, which is where the DTC is held.  (Unfortunately for Bob & Michelle, they were already on their way by the time the cancellation call came through... so they went to Moab via Rapid City, SD.)
So the Black Hills 4 Wheelers carried my reservation across to the 2001 Challenge... or so I was told.
Preparation for the '01 event went pretty well, as Mazuki was in good shape already.  The same could not be said of my tow vehicle, an 89 Ford Van, which has become the personification of the Fix-Or-Repair Daily acronym.  The van developed a severe part-throttle miss/hesitation not a week before we were supposed to leave, which was diagnosed as a dying/dead #1 cylinder by the all-knowing computer I paid $85 to hook it up to.
Great.
I spent the weekend sulking and sailing, which gave me time to think.  And the more I thought about the symptoms of the miss, the more the computer diagnosis didn't jive.  Thoroughly ticked off, I tore into it myself and discovered that the schmancy computer was full of bull snot:  All cylinders registered 180-190psi on a compression test... and all the plugs looked to be the right color, but worn beyond belief - the center electrodes were perfectly rounded off!
New plugs = new van.  Woohoo!
Then began a mad flurry to round up every replacement part that could possibly break: axleshafts, tcase, tie rod, steering donuts, ad nauseum.  Pack the van.  Pack the Zook.  Pack the camping gear.  Pack the tools.  Call Tim.  Tim says, "I thought we were leaving next week?".  Ummm, no... you better get your skinny butt here in 24 hours!  So we blasted out of Indiana at 9AM Wednesday morning, which would put us there a full day early to setup, get a good campsite, catch the sights (Mt. Rushmore is literally 20 minutes away), get Mazuki teched in, relax, and get a good night's sleep.
Ha!
At the first gas stop, I notice a small puddle of red fluid under the F. O. R. D. van... oh sh*%...  A tranny fluid check reveals about a 1/2 quart low.  The voices say, "turn back, turn back", so Tim and I buy three quarts of ATF, cross our fingers, and trudge westward.  Unfortunately, the small leak turns into a BIG leak, and by the time we reach Sioux Falls, SD, it's running out as fast as we pour it in.  And it's pouring... rain.  And it's midnight.  So we checked into a motel.
And I had a tall, cool one (beer).  Then another...
With morning also dawned the realization that every tranny shop in Sioux Falls was booked for weeks.  We lucked out in finding a shop that would make room for us, only because the same thing had happened to the owner's son not a month previous in California!  So while Devlin of Marion Road Auto Service put a new front pump seal in, Timmahhhh and I busied ourselves with tourist-type activites... like going to visit the Falls of Souix.  Tim nearly got hisself a date from an 80-year-old woman on the way to the Falls... what a stud!
Back "on the road again" by 5pm meant we'd roll into camp about midnight... then have to scramble the next morning to get on any of the good trails (5+ or bust!).  So much for the sightseeing.  Scramble we did:  Register.  Put the driveshaft in.  Tech the truck.  Sign up.  Get in line.  Breathe.  Did I mention it was like, 40 degrees F in the hills?  And we left the windshield off?  And it's a hour-long drive to the trail head?  And they had me listed as 'cancelled' at registration!
"Twisted" is rated a 5+, meaning most difficult, and within 30 minutes of starting two Jeeps had broken, one being the tail-gunner.  Lots of hard off-camber, tight squeezes between rocks and trees are found here.  Body damage is almost a given, except the Samurai's small size drew "cheating" comments from the mainly-Jeep crowd for being able to easily drive through spots that gave the slightly-larger vehicles fits.
All in good fun.
The 'waterfall' is a six-foot-tall, near-vertical shelf of rock that is usually wet with a thin layer of mud.  About the only way up is to "give 'er 'ell" from 20 yards away and hang on!  Here, Mazuki's 82" wheelbase, coupled with my aversion to replacing axleshafts meant we winched up... but so did half the rest of the group.  Speaking of which, the trail guides, Shane and Brian, as well as the entire group (mainly a club from Minnesota), gelled and had an absolute blast together.
Back at camp we swapped a rear driveshaft, as the pinion-end u-joint was squeaking, but other than that, the little truck was performing flawless.  We were then pleasantly surprised to find that the owners run a small grill out of the General Store, and cook up a good steak dinner for $9, and an egg breakfast for $2!  Suitably stuffed, we called it an early night.
On the orders of our trail leader and gunner from the day before, we signed up for "Hangman", which is supposed to be the toughest trail at the DTC.  It gets its name from the 50-foot, near-vertical winch up to the top of a hill, with nothing behind you but a 100'+ drop straight down!  Thus, you are quite literally 'hanging' by your winch cable!!  Shane and Brian also told us that when they opened the trail in 1999, seven very experienced vehicles left camp at 8AM, and returned at 2AM the next day...  And, oh yeah: a short-wheelbase vehicle has never finished the trail without endo-ing off an obstacle known as "Squirrel Cave".
Excellent.
As we gathered to go, we had a chance to meet our trail leader, Jason, and the gunner, George.  Jason runs Twisted Customs and had built a stunning rock buggy to replace the equally-well-built Bronco he now uses to compete in the ARCA series, meanwhile, George had a heavily-modified Jeep that was trailer only...  Tim and I thought out loud: "What are we getting ourselves into here?"  Add that to the fact that only four vehicles signed up!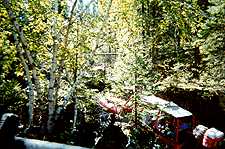 Well, Hangman was nasty, and made Twisted look relatively easy by comparison.  Four-foot rock ledges were 'small', and parts of the trail were so tight, you mashed body corners no matter how hard you tried not to... there was simply no 'other' line!  Not even in a Samurai!  Wheelstands were common at both ends, having at least three wheels on the ground was rare, you were constantly on the skidplates/rockers/bumpers, and ten-point turns were the rule.  Not 100 yards into the trail, I lost a steering donut, and the exceptionally-well-built Jeep in front of me tore a brake line off.  100 yards later, a TJ pretzeled his tie rod and baked his steering pump.
And that was the easy part.
So far, Mazuki was aquitting herself good, playing her trump cards of small size, and flexy suspension when slithering through obstacles that were giving the larger vehicles fits.  Along with surprising durability: the stock Suzuki axles (with Spidertrax rings) were holding up... amazing.  But the normally-flawless stock rotary carb was not taking well to the 7000' altitude and dust-plugged air cleaner though, and was starting to load up a bit at idle, making crawling a bit of a herky-jerky-stally task.
Note to self: Bring spare air cleaners for DTC.
08/11/2010 15:29