with Jim Bova model Danielle Bova
Gotzuk.com Door Less Mirror Bracket
Editors note: This article was submitted to iZook by Jim Bova. He completed the installation of the GotZook Door Less Mirror Kit to his Samurai with the assistance of his daughter Danielle. 
What has been a problem for Zook owners after cutting the hinges for removable doors is what to do about a mirror mount. Gotzuk.com has solved that problem with their Doorless Mirror Bracket. It is a simple no holes to drill application that mounts in the existing hinge holes.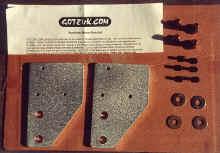 The kit comes complete with two brackets, new bolts and washers and an instructions sheet.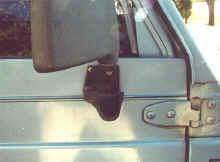 The first step is to remove the mirror. If you have the impact screw driver still out from the hinge removal use it. The screws may be rusted and you don't want to strip them. Flip down the plastic cover to expose the screws.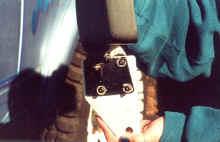 Attach the mirror to the mount using button head allen screws supplied in the kit.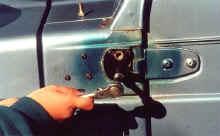 Remove the two screws that hold the hinge onto the fender. Note that I had already replaced my philips head screws with hex head screws.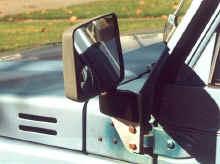 Attach the mounted mirror and bracket to the hinge using the supplied hex bolts. Before tightening completely check that the door closes correctly. Align the door and tighten the bolts.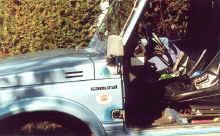 That's all there is to it. All that's left is to repeat the install on the other side and your done. Simple and low cost.
  08/11/10 15:07