Doorless Accessorieswith Bill Johnston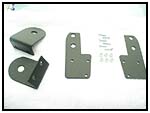 So you want to put some windshield light brackets on your rig, but you also want to do the doorless mirror install and you don't think they will fit together. Well, Designs of Steel now offers a set of their windshield light brackets that are made to work with their doorless mirror brackets.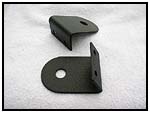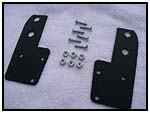 These steel brackets are powder coated for long lasting durability.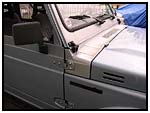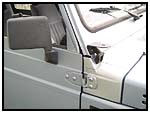 The light bracket installation is really straight forward, it's just a matter of removing the two upper windshield mount screws - sliding the bracket under the mount and replacing the screws.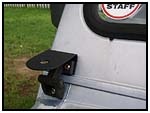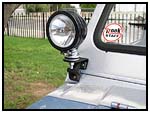 Unlike the other design that DOS has, this one keeps the bracket out front. The other version offsets the light to the outside, but there wasn't enough room for the mirror brackets.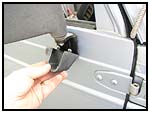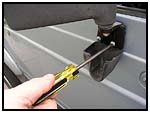 Putting on the mirror brackets is another simple job. Just remove the mirror from the door...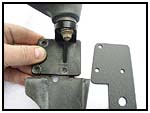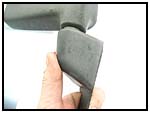 Line the mirror up on the bracket and use the bolts supplied to attach it. Make sure you put the nut side on the inside of the plastic cover.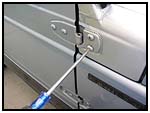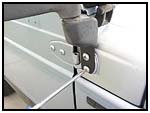 This is probably the only tricky part of the installation. These factory hinge screws are installed with a form of loc-tite. Sometimes they come out easy, sometimes you need to use a bit of force. First try a #2 Philips screwdriver. If that doesn't work try an impact driver, or a chisel to start the screw turning.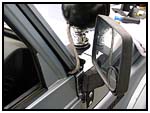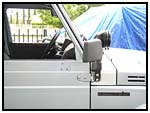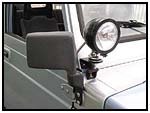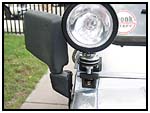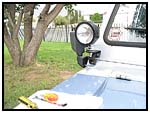 Here you can see how the brackets never come close enough to touch. This adds the ability to use an auxiliary light AND reposition the mirrors from the door panel to the base of the windshield. One bonus I found as I drove down the road was that this puts the mirror higher and farther forward. This puts it much closer to your normal field of vision. It gives you a much better view of the road on the drivers side.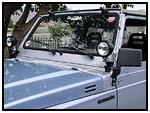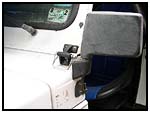 On the right you can see where I put the mirrors on my trail rig in about the same place. I did this about 8 years ago, long before anyone had come up with the brackets. But I screwed them directly into the windshield base. This is not something I would suggest if you want to be able to change it back to stock later on...
Get the brackets, do the install, and be alot happier with your results.
Source:
Designs of Steel P.O. Box 1001 Perkins, OK 74059amy@designsofsteel.com
08/11/10 15:01:13