with Jim Carr
Door Handle Upgrade
It doesnt take long to figure out that the stock door handles are too small and inadequate. Time after time Ive witnessed the door swing open at a speed close to the sound barrier. I am never able to grab the crazy thing before it whacks the light post or parked car or blowout the buckles on the retaining straps. And dont even think youve got a chance when wearing gloves.
During a recent rebuild of the ole zook, as I removed the grab handles from the rear passenger compartment, I noticed what a nice size they were compared to the puny front handles. The light bulb went on and I decided to install them in place of the stock handles on the doors.
Remove the window crank, door handle, and the interior door cover. Mark an approximate area where the handle is going to be and remove the paint. I temporarily installed the front screw in the grab handle on the door. Mark the rear hole. There is a generous area to affix the rear nut. I tried to center it in the sheet metal rib.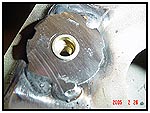 I then laid a 5/16ths fender washer over the marked hole and tack welded it to the sheet metal door. The fender washer spreads the stress over a larger area and gives additional thickness for the Rivnut. Grind any excessive weld so the top surface is flat.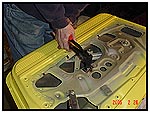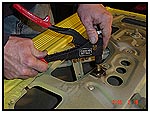 I had purchased a kit of metric rivnuts from the local Fastenal outlet. The kit included an assortment of rivnuts, mandrels and an installation tool. Rivnuts work similar to a pop rivet. A threaded tube is put on the installation tool with the appropriate mandrel. When squeezed, the tube collapses and grips the sheet metal. Presto! You have a captive nut.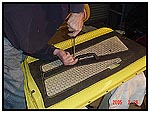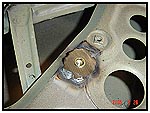 For the 6mm screw it required a 3/8th diameter pilot hole. Drill the fender washer inside diameter to 3/8th of an inch. Install the rivnut and test fit the handle. Eyeball the backside of the interior door cover and drill another 3/8th diameter hole. Hopefully everything lines up and youre on your way to reassembling the door.
An alternative to the rivnut would be to first weld a 6mm or a -20 nut on the backside of the fender washer. Drill a inch diameter hole in the sheet metal and then weld the washer to the door with the nut inside the door. With the - 20 nut youll have to source a -20 machine screw to hold the handle on.
Ive had mine on for a couple of weeks now and they are fantastic. I marvel every time I get in and out of the truck at the ease compared to the stock handles. I look forward to the times Im parked on a slope or there is a 20 knot tail wind. Ive got larger target to grab for as the door reaches terminal velocity.
08/11/10 15:07:36