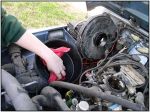 The ComboGrip With Bill Johnston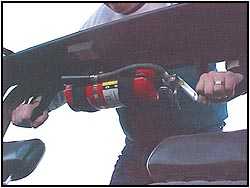 When hitting the trails, there are always a few things that go with you. Most folks will pack a first aid kit, a small tool kit and a fire extinguisher. The first two are normally flat bottomed and easy to pack away safely, but what about the fire extinguisher? The flimsy plastic 'holder' that comes with it usually breaks on the first trip and sends it bouncing around inside the rig (if your lucky). How many folks do you know that have just stashed it away under the seat where you can't get at it? Or even worse, they have it attached to the roll cage with a large hose clamp? If there is an emergency, you have to scramble for a screwdriver!
Direct Effect Enterprises (DEE) makes a product that securely mounts the fire extinguisher within reach of everyone in the vehicle, and gives you a place to hang onto when the trails get a bit tippy. The ComboGrip can fit just about any sport cage with 35″ of bar available. There is no welding, wrenching or getting dirty involved in this installation. You just strap it on and go!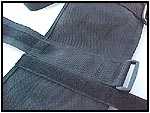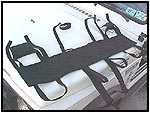 The entire product is made from heavy duty webbing that can take the torture that we normally see on the trail. Three levels of retaining straps secure the extinguisher in place while keeping it out of the way. The hand grips aren't just sewn on to the main section, they actually wrap around the bar. Your not going to just pull these things loose!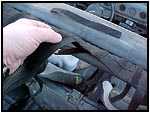 We first installed the ComboGrip on a stock roll bar. It can be installed with or without the roll bar cover in place. The ComboGrip is fully adjustable and made to fit the diameter of most sports bars. If you decide to leave the roll bar cover in place, you will need to loosen the bar to get some room to slide the product into place. 
We used two different sizes of fire extinguishers to show just how versatile this mounting system is. When I talked with Direct Effect Enterprises, I was told that this was probably one of the most 'over engineered' pieces of offroad equipment you will find on the market. The attention to detail is amazing, so I guess they were right.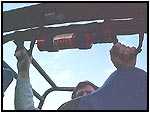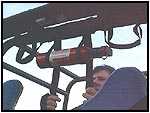 Next we installed it on a stock roll bar that has been augmented with front and rear sections to make a full six point cage. In this case the cover had been removed during the installation of the cage. This gave more room for the webbing to slide down near the targa bar.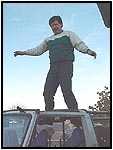 Let's talk about strength…   d'ya think this is tough enough? I'm not floating over the seats folks… all 210+ pounds are supported by standing in the hand grips! I wasn't worried whether they would hold me – the way this thing is built would have held up under much more stress than I could give out, I was more concerned about keeping my balance. Next we will be heading to the trails for some 'real world' testing. Keep an eye out for the review.
DEE also make a smaller version with one grab handle for places where there isn't a full 35″ of bar available. And if you only need a grab handle by itself, they make one of those also. You can fully dress out your rig with handles at every corner if that's what you need.
Source:
Direct Effect Enterpriseswww.combogrip.comcombogrip@cs.com 1-800-792-9897 
08/11/10 14:47