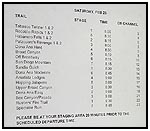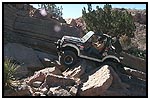 With about 20 runs leaving each morning, there has to be a way to get everyone out of the fairgrounds in an orderly fashion. The list to the left shows how they got folks like Eric (photo on the right) out to the trail bright and early. Here he takes on the second obstacle on Tabasco Twister.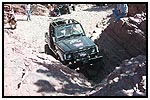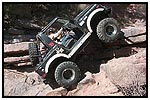 Eric took on some of the roughest obstacles with a flare. The short wheelbase of the Samurai lacked the breakover advantage that the longer wheelbase vehicles had when scaling ledges like the one on the left. But it had more of an advantage in the tight turns. The long wheelbase vehicles had to try this one (on the right) at a slight angle to make it out the top, but then they run the risk of dumping the vehicle on its side when a wheel drops into a hole. A Unimog did just that a few minutes before Eric got his chance at the obstacle.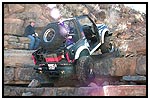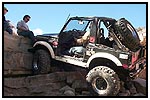 The Abyss was a bit harder on the zooks, as the ledges were set just the right distance apart to make the front and rear tires attempt to climb verticle ledges at the same time. You have to get lucky that a tire catches an outcropping to get up this one, or stack rocks like many of the other participants. This kind of takes the challenge out of the whole thing. And it is why the local club looks down on those that try to build a highway of boulders. 
08/11/10 15:36