Zooks at the Chile Challenge 2002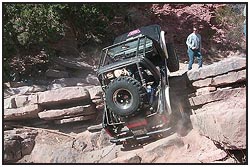 For years, the South West 4 Wheel Drive Association has held their winter meeting in Las Cruces, New Mexico. The Las Cruces 4Wheel Drive Club has hosted the meeting with a flair by building up an event around the gathering. Now, the Chile Challenge is famous in it's own right. Hundreds of vehicles, from stock to extreme, gather to run the wildest trails that the canyons north of Las Cruces have to offer. This year a few zooks made it and impressed many of the other participants.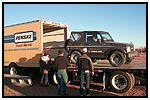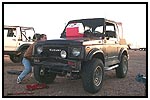 The great thing about zooks is that a stocker can usually outperform many of the other participants. The '87 soft top Samurai on the left belongs to Tory Smith. The only upgrade he had done was a slightly taller set of tires, but he was ready to hit the trails! The Special Edition Samurai on the right was transported to the event using 'alternate means'. The owner had just finished putting in a newer motor (30K mile motor from across the water). It was completely stock and the driver still had a blast!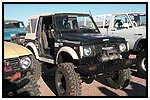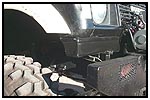 Eric Stromme trailered in his rig from Austin, Texas. His zook was a bit more built then the first two. He was running 4.16 transfer case gears with 5.13 ring and pinion gears at the axles. One of the more original modifications was how he re-used the stock plastic rocker guards to fill the gap left by his body lift. Can you find them in the picture to the right? He also had a full cage, beefed bumpers and rocker armor. And that only scratched the surface.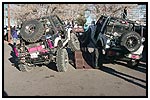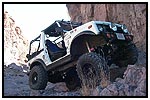 I had mine there too, but since it's my daily driver would you expect anything less? I didn't get to many shots of my rig because I ran up and down the trails shooting photos, but I still got a couple. To the right is a shot of the 23 degree RTI ramp that was set up for participants to strut their stuff on. When a zook scores 1000 on the ramp in the middle of TONS of built Jeeps, Broncos and Rovers - it does draw a crowd. Life is good.
08/11/10 15:36