Bumper Billboards! With Bill Johnston
Some folks like a clean, sanitary look to their vehicle. Some proudly display the achievements of their children on the bumpers. Others like to add a little flair that makes you look twice. Which one are you? If you are looking for that perfect bumper sticker that reflects your personality, attitude, or just your favorite catch phrase, check out the goods from Sticker Pirate.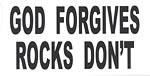 The first thing that got my attention was when I recognized the sticker that had the signature line I have used for many years. One Sunday, many years ago, I decided to drive the rig to church (El Paso, beautiful weather, with the windshield down there is nothing between you and the wind but a roll cage...). The preacher saw me pull into the parking lot and came out for a look. After talking about the abuse the vehicle had taken through the years, he looked at me with a smile and said "God forgives, but rocks don't". I took it to heart and added the phrase to my signature line on the web sites I frequented ever since.
Many of the non-Suzuki crowd often call what we drive a Jeep, so this sticker might look appropriate to them. Until, of course, they look a little closer.
Sticker Pirate has many 'Danger' stickers in the catalogue. At first it looks normal to have it on the gas can, but looking a little closer reveals a little more insight into the mind of the driver...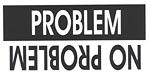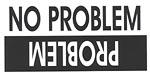 Rollovers are common in the rocks of Las Cruces, but this driver hopes to keep the nice paint job looking good for as long as possible. His choice of bumper art was very appropriate because he rolls over the sticker will change along with his outlook.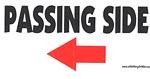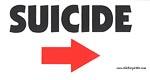 Are you wanting to send a message to the folks playing games on the highway? While we would never condone doing anything illegal or stupid, these stickers placed on either side of you rear bumper, combined with a big set of Swamper SX's will make most think twice before passing you on the right...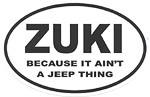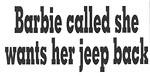 These bumper stickers have lot's of possibilities, but the biggest benefit is the smile they bring to the readers face. Go see if there is anything you can use, or even share with friends... Source:
A subsidiary of:Designs of Steel P.O. Box 1001 Perkins, OK 74059 troy@designsofsteel.com
08/11/10 14:54