with Nitro Max
Belgium Ardennes Adventure
This article may not be of much use to you guys on the other side of the Atlantic, but there are Zuk owners over here in the Benelux that visit iZook on a regular basis.
For both you and them its a nice opportunity to see what the Belgium Ardennes has to offer for the 4x4 enthusiast.
The terrain we went to last weekend (17th to 20th May 2007 ) was in Bilstain, near Verviers. Its 40 hect. big and has everything you could wish for in 4x4 terrain: a variety of hills, creeks/ruts, mud, trees and rocks.
You can ride every day of the week except on Mondays. To go riding, just turn up, pay the fee at the gate and have fun ! The time to ride is restricted however, you have to stop at 6 pm during the week and I believe 8 pm on the weekends.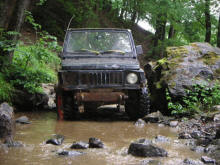 You can visit the website @ http://www.rdmcbilstain.be/, click the icon with the flags for a page in English. Theres not much info on the site so this article can only contribute to the popularity of the terrain. As you can see on the website its mainly directed at Endurance/Trail/MotorCross/SuperMotard and Quads you can rent there. Of course you can turn up with your own bike as well.
We went there with a group of about 14 cars and 30 people, mainly friends and staff of Suzis Place ( www.suzisplace.nl, of which Im the webmaster ), they brought their big yellow trailer which provided room for some 10 people to sleep and shower. They also provided the food/drinks/snacks/BBQ and seats around the campfire for a small fee per day. Great, laid back guys !!
My mate Arjan and I rented a small room on the site, Im too old to camp 😉 By the way, theres no need to worry about food, at the gate theres a nice little bar/restaurant, very nice for a hot cup of coffee in the morning too. In the village theres a Supermarket selling all the essentials.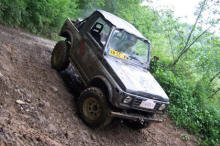 The cars were mainly cars that are not suitable for the road anymore, the one Arjan and I used doesnt even have a registration anymore, I got it for free last year from a retirement home that had used it only on their property to sweep up leaves, plow snow and salt the roads for the last 10 years. As you can imagine the bodywork was in a terrible state, but engine wise it had been maintained perfectly.
Some other Zuks were cars Suzis Place had traded in and kept for this purpose, getting trashed by friends and family, only to be dismantled afterwards. Even then, some cars had already lasted 2 or 3 of these weekends ( like ours, we used it in Sclayn last year ).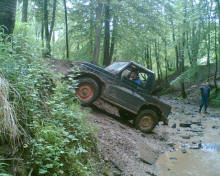 Contrary to the terrain in Sclayn, which is mainly knee-deep mud and puddles, Bilstain offers slippery hills full of rocks and trees, some small creeks and steep rocky roads. As weve only got some sand and mud over here in the Netherlands you can imagine it was exciting for us to drive on this kind of surface.
The weather was fine too. Having rained all week, the weekend was sunny during the day and again rain in the night, providing nice and slippery hills to climb and descend.
We had some or should I say most - Zuks ending on their side, one even tumbling down a hill ending up in a tree, but no one got injured although most Zuks have a new collection of battle scars.
We had great fun, testing our skills sliding down the slippery, muddy hills avoiding the trees and rocks ( or using them to stop or turn our Zuks ) or trying to get out of the creeks with their narrow, steep and rocky exits.
Two cars snapped a driveshaft, one of them even broke a leaf/bracket off the rear suspension, he made it to the camp on 2WD, tipped the Zuk on its side and repaired it. Our 410 stopped in the middle of nowhere with distributor problems. We were towed back to the camp where Dave, one of the mechanics at Suzis Place replaced our points distributor for an electronic item they had lying around in the spare parts department of the trailer ( which amongst others also carried spare axles, gearboxes, radiators, T-cases and loads of electrical stuff ).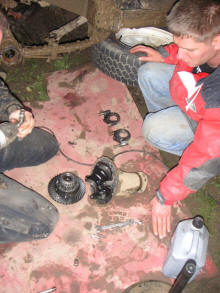 We also Tie-wrapped a new coil to the old one and on our way we went again. Arno, the Boss at Suzis Place broke the teeth off the satellite gears in the welded rear diff, he took it apart on a cloth in the mud, welded it all back together again and went on his way, back to play for another 2 days without problems.
Check out the pics ( I had 480 pics to choose from :-O ) for an impression of our great weekend in Bilstain, Belgium. Ours is the black one-eyed SJ410 with the orange LJ80 wheels with tractor tires ( courtesy of William, again of Suzis Place ).
We cleaned it after the weekend with a steam cleaner and found theres no panel thats left attached to another panel. We had a big hole punched in the floor by a rock and we can now see which way the wheels are pointed, right through the foot well of both driver and passenger sides. Since the engine/gearbox and T-case are still going strong ( it does need a new clutch ) we decided to cut up the body ( as far as we need to cut, breathing on it might be enough ) and build a roll cage with chairs/seatbelts on the chassis with only minor protection against water and mud. Nice project for the coming summer.
Everybody had a great time, the weather, food and company was great and well sure go back soon for another ride.
Bilstain is highly rated by us, recommended to all 4x4 enthusiasts in the Benelux, Germany and France !
08/11/2010 15:37