with Bill Johnston
Making Big Tracks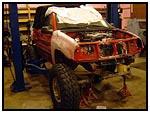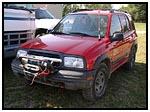 During the 2005 ZookiMelt, Jim Mazzola brought and wheeled his wife's 2004 Chevy Tracker. It was very little more than a stocker, with slightly larger tires and a winch. He did very well on the trails, but he also told us that he was planning to make some changes for the next year. He gave us a small taste when we with an update article he did for us after he started...  You can read that article here.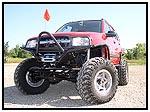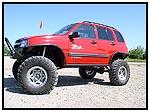 This is what he brought to the 2006 'Melt... it was a stunner! He basically ripped out everything under the body and designed and built a whole new suspension. The Tracker was now sitting on 37's running 17" Walker beadlock rims on narrowed Dana 44 axles. He is running 5.89 axle gears with Detroit lockers for great reduction on the trails. Those Fox Air Shocks give him a full 12" of travel.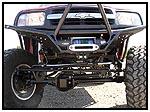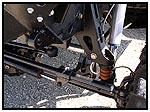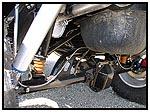 Jim designed a two link radius rod style front suspension with a 1.75" panhard bar. He stayed Chevy by using the power steering box from a Chevy van and gave it some help with a hydraulic assist ram.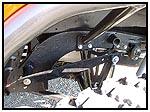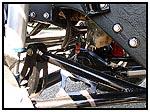 Out back Jim designed a new four link suspension with 2" spherical joints at one end and full rubber isolated joints at the other end for a smooth yet controlled ride. You can also see the Currie Anti-Rock sway bar he incorporated into the design.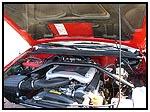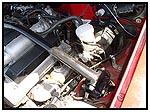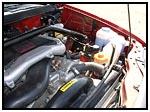 He kept the stock 2.5ltr V6 and the 4spd automatic transmission, but as you can see in the pictures there is now a large suspension brace crossing the engine to tie both sides together for added strength.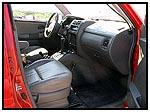 As I said, it is his wife's Tracker, so when they got it they made sure it had all the options like leather heated seats, electric windows and locks, etc. The only real change to the interior was the addition of another shifter handle for the second transfer case. He added a Toyota case behind the Tracker case using a Kicker 2 adapter. The custom belly skid and rockrails keep the rocks away from the major components.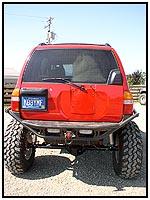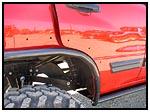 The body has a bit of protection also, in the form of full perimeter rock rails and rub bars. The rear fender rub bars are actually formed to the curvature of the rear doors, letting them swing open without any trouble. The front and rear bumpers are also a Mazzola design that tie into the rub bars.As you can tell by the photos below, this isn't Jims first dance. The first Tracker he built has seen many 'Melts and is now owned by Rae and Mitch Champoux. The one in the middle there is a monster in it's own right owned by his son. They made a great family picture parked altogether in the parking lot at the Badlands Offroad Park during the 2006 ZookiMelt. So what do you think? Should he go ahead and build one for himself?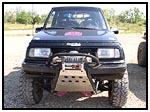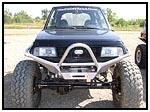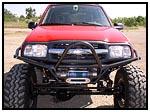 Built By:Jim MazzolaDryden, Michigan 08/11/10 14:08