with Bill Johnston
Big Texan
Believe it or not, this seriously capable crawler started life as a 1988 hardtop. Benji Arslanouski built one heck of an offroad machine, and he still isn't done (are they ever?). We met up with him at the 2006 Zookimelt to to take a few pictures and talk about his rig.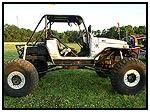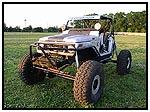 Equipped with a 16 valve 1.6 ltr EFI engine, this zook is pushing 108" worth of wheelbase. The Trail Ready beadlocks keep the 39.5 IROKs from getting off on their own. The hydraulic steering makes it easy to turn those big meats. The 8.1:1 gears in the transfer case make it easy to push those IROKs around.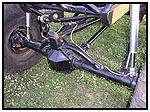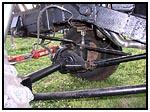 He is running a Dana 44 front axle and a Corporate 14 Bolt rear sporting 5.13 gears, Detroit lockers, Blue Torch diff covers and disk brakes all around. They balance the body on a set of 17" Bighorn Air Shocks.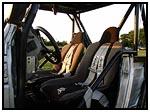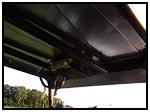 Although sparse, the interior is definitely comfortable with its PRP seats and five point harnesses. As you can see, he kept the idea of a tintop alive through the use of a bead rolled aluminum bikini top.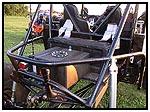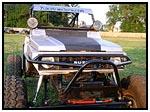 He dropped quite a bit of weight in the back by chopping off the rear of the tub and tubing it out. The eight gallon fuel cell and a tool/parts box keeps what is left of the weight balanced.Benji has built a very capable rig, he has made even more changes since these pictures were taken. I guess you never finish a rig like this. Thanks for showing us a great example of what can be done Benji. And see you next year at ZookiMelt!
Built By:
Benji ArslanouskiFort Worth, Texas 08/11/10 14:08