with John Cosentino
Zooks from all over the North East  came together for one or both of a two day run around Beacon Mountain, NY organized by Eddie Casanueva. Eddie is the east coast rep for ASA and co-founder of Spidertrax, Inc. The terrain was mostly rock, loose rock and granite. The trails were rated from 6 to 10 depending on obstacles. 
Day 1 was a small gathering of 6 of the more capable zooks, geared and locked ready for just about anything. Dan, Jim and I, from New England Suzuki Offroad, met up with Eddie and Mike, and a little later Mark, from NJ, and headed to the trail around noon. A quarter mile into the trail we stopped to air down and Eddie realized he had lost the valve stem from one of his boggers. Determined to wheel he decides to ignore the flat and continue on, knowing the beadlocks will keep him going. Conquering many rocky climbs we quickly make it to the top of one of the peaks where we meet up with Mark and played around on some giant rocks.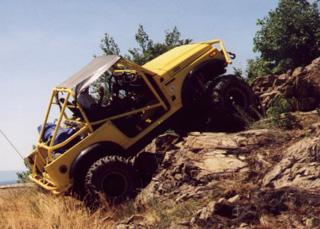 Eddie puts on a good show, demonstrating how well 1/4 elliptic springs in the rear and coils up front twists up on the rocks. Mikes zook seems to be quite flexy as well having dual shackles in the rear with drooping arms similar to buggy springs. After and hour of play we decide to move on to the next peak where there's a good 30 foot rock face to climb and many more obstacles as well as an old fire tower. Eddie decides to attempt what we thought to be impossible and makes it most of the way only to realize the flat tire's hampering his ground clearance and he's going to have to winch out. I can say I don't think I've ever seen anyone more determined to clear an obstacle without having to winch. Out comes the cable and a little too much down pull and snap!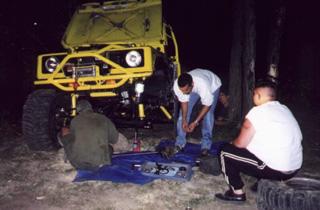 Well we found out what the next weakest link after the birfield is. He broke the long side axle. Unlocking the hub he continues on in 3wd. Later that day we decide on a place to camp out on the side of the reservoir and set up camp. The NJ guys decide to stretch the winch cable across the lake to a tree up on a rock. Attaching a snatch block and rope to reel it back, they start descending down and drop into the water. 8 ) Later that night we pulled Eddie's front end apart realizing the third member would have to come out to remove the broken axle pieces. An hour later it was all back together and working like new. At the same time Mark repaired the rear bogger. 
The next morning we packed up and headed out for breakfast at Denny's and met up with the other zooks, Matt Peckham from CT, Todd, Doug , Jim & Rich from PA , Morrise & Spiro and Buddy & Don from NJ. Eddie leads us to the other side of the mountain for a different approach. We had a stocker in the group on the second day with some engine mods. It became quickly apparent that we wouldn't be covering nearly as much ground as the day before having twice as many zooks and not all of them are locked or geared. The only damage was a rear universal joint on Todd's zooki after bashing it on a steep rocky incline. Many times the winch had to be used. Almost everyone was determined to avoid the go a rounds. With some minor pounding, we were able to bend Todd's shaft back into shape enough to house a new universal. The trail ended at our campsite and once again the winch cable was strung across for more lakeside fun. Before heading out Eddie decided to show everyone how adept his rig was at climbing trees and once again flexed it out for some good pics. Heading back down the mountain, Mike, Mark and I decide to see just how well the zooks handle fire roads at high speeds, making it down in record time with plenty of air time. 8 )
08/11/10 15:28