Battery Tie Down Kit Installation
With Bill Johnston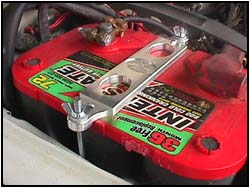 Ok, you buy a replacement battery for your Zook for some added power. You figure out very quickly that the stock battery tie down bar doesn't fit. What do you do? 
You head to the local auto parts store and pick up one of those rubber 'One Size Fits All' things that look like a fitted bungee cord. Right? 
After about a year (maybe less in dryer, hotter climates) the rubber tie down cracks and then breaks at the wrong time. If you go off road it becomes more evident as your battery tilts and bounces against the hood and makes dangerous arcs of electricity very close to your fuel system. So you grab a loose bungee cord from under the seat to fix the problem... What is the real way to fix this problem? We found a good true bolt in replacement from Spidertrax that wouldn't be affected by the heat or the dry desert air.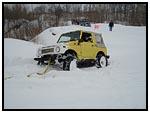 Here is what we needed to replace. This Samurai has had an additional battery installed to share the power requirements that we add with big stereo systems, off road lights and sometimes a winch. You can see that one battery still has the 'One Size Fits All' rubber thing that seems to be ready to snap from dry rot. The other has already snapped and the famous 'bungee cord' has been put into action. No time to waste!
To complete this dual battery installation, we used two kits. Single Battery installations only require one kit.
Parts included with one kit:
1   Tie Down Bracket 1   Angled Tab 1   Short Hook (passenger side) 1   Long Hook (driver side) 2   Wing Nuts 2   Washers 1   Button Head Screw 1   Instruction Sheet
Required tools:
1   Phillips Head Screwdriver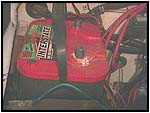 First things first... 
Remove the battery cables and clean up the terminals. The new tie downs will draw attention to the battery, so you might as well make it look good. Then pull the battery out and clean up the battery tray. We cleaned ours out and hit it with a coat of paint. You would be suprised how much damage the original battery did with spilled battery acid.
08/11/10 15:18