with Larry Harris, Jody Ellsworth & Jeff Pollock Photos by Tim Porter, Terrina Harris and Lisa Wixson
April showers bring May flowers, and one heck of a 4 x 4 Adventure. April 23rd through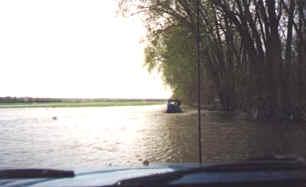 25th were the dates of the second annual 4 x 4 adventure with Superlift. It was held at the Badlands Off Road Vehicle (ORV) Area. This new park is located in Attica, Indiana. The Badlands is a privately owned ORV area owned and operated by Troy Myers. It contains 800 hundred acres of land that was once a thriving quarry. You can find a mini Rubicon test area, sand dunes, wood trails, hill climbs, and as much mud as you care to play in. This was the perfect opportunity to meet members of the iZook staff and several members of the Suzuki mailing list. Honey can we go??
A little history may be in order here. West Michigan has many miles of heavily wooded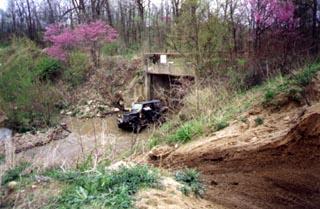 and sand covered trails, we even have a very large Sand Dune State Park. Our club has spent many fine hours exploring these trails. We have numerous hours piloting our trucks through some very tough Mudded tight wooded trails. I am sad to say there are no rocks or trails with rock ledges close to our normal stomping grounds. Are we prepared for Attica? I sure hope so.
Two member families from the West Michigan Off Roaders packed up early Friday morning heading south on US 31. We had no idea what was in store for us. It takes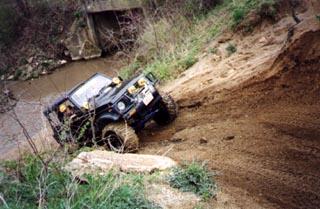 about six hours from Grand Rapids to reach the Badlands park (see sidebar). We enjoyed a very leisurely trip on the interstate highway system. I was flat towing and Jody with his freshly painted zook was on a trailer behind Lisa's Scout. By fresh paint I mean it as only been back together for a week. Pulling into the park I am amazed at the varied terrain. From the parking lot you can see trails heading off in all directions. Our arrival time was around 11:00 and after signing in at the Superlift tent we discovered our trail assignment for Friday was leaving in less then an hour! Rushing around madly to find the hard to find primitive camping area that was located somewhere on site was a little frustrating. The good news is we found a great spot. The group quickly unloaded and headed back to the trail head. Damn we have not had a chance to air down, our tires are still at 25 psi for towing.
Directions:
From Chicago: US 41 south to Attica, 1st stop light turn right, at the 4 way stop continue mile.
From Indy: I-74 east to Veedersburg, 41 north to Attica, 1st stop light turn left, at the next stop light turn left, at the 4 way stop continue mile.
From Holland: 1. Start out going Southeast on M 40 towards 32ND ST. 2 . Turn RIGHT onto US-31 S. 3 . Take the I-94 WEST/US-31 SOUTH ramp towards CHICAGO/NILES. 4 . Merge onto I-94 W. 5 . Take the I-65 SOUTH exit 6 . Merge onto I-65 S. 7 . Take the US-24/US-231 exit 8 . Keep RIGHT at the fork in the ramp. 9 . Merge onto US-24. 10 . US-24 becomes unnamed road. 11 . Turn LEFT onto US-52 E. 12 . Stay straight to go onto US-41 S. 13 . Take the US-41 SOUTH ramp towards ATTICA. 14 . Merge onto US-41 S. 15 . Turn LEFT onto PERRY ST.
Take a deep breath, we are in line for our assigned level 2 trail. Superlift has a little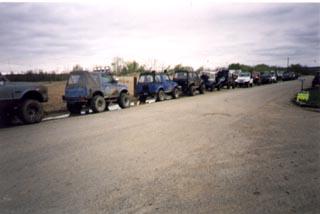 different marking system. The parks level 3 equal a level 2 (moderate) Superlift trail. At this level I should have plenty of photo opportunity for the iZook article. The group is heading into the park, I am in awe of this very large and  steep incline off to our left. It goes on forever... Holy smokes, the trail boss is heading up. I swear standing at the bottom you can not see the tree covered upper section. The hard right turn half way up makes it even more challenging. At the beginning of this article I talked a little about the rain. Did I say it had been raining for a week and the level 2 / 3 trails are now 3 /4 everything is coated with mud.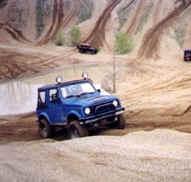 Not intimidated, after all we are in a Samurai we follow up the trail making the dog leg turn. No problem this is easy. Oops, I can now see the next few obstacles. One very memorable area  sticks in my mind even now. The truck is pointing up hill, trees on both sides, a rock off to the left but still on the trail. We have to make a steep downward decent while making a very sharp turn at the beginning of the downhill journey. All I could see was sky. Our trail boss Steve Gibson yells out "Turn right now!" Hot Damn this is a blast! The next few hours go by in a blur. Not until we had crossed over every type of hazard imaginable and ended up at the bottom of a sand hill did we have a chance to catch our breath. While we were chatting at this hill I can hear a  zook off in the distance. Looking up I see a black Samurai with a Hard Core 4 x 4 sticker in the windshield. Yep, it is fellow staff member Jeff Pollock and Tim Porter from Ohio.
Up to now we have been riding in a wooded, mud covered trail area. The landscape I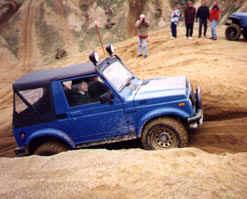 see before us has to be the Nile River. As we are sitting on the trail Steve is scouting ahead to find a path through the swamp. I look off to my left and there is a trail marker out in the center of the  river. Our intended trail is under water. Hearing all clear the group is underway down the smallest muddiest trail I have ever had the pleasure to run. This goes on for about ten minutes, looking ahead we see trouble. The trail is gone! It is now all woods and river. Turning around not to be beaten the trail boss comes over the CB radio and  lets everyone know his plan. Folks we are going to have to make a long river trip, the trail has been flooded by all the rain.
This is the first day and the first trail. What a weekend.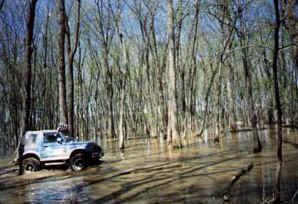 There are about 8 trucks left from the original 20 driving down the "Nile" (Wabash) river. The water is coming in through the holes in the floorboard. Great the pre wash is working. Pulling into the staging area with the biggest grin I think I have ever sported I turn to my wife Terrina, woman this is fun I yell. It must be ok the grab handle is still in place and she to is sporting a very large this is a great start smile. Off to the campsite for setup, stories and barley pop (Beer).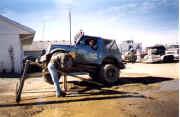 Grouche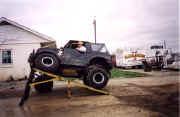 Snap Dragon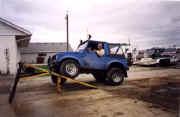 Happy Jack
08/11/10 15:29