with Larry Harris, Jody Ellsworth & Jeff Pollock Photos by Tim Porter, Terrina Harris and Lisa Wixson
Sunday at the Badlands in Attica, Indiana has brought a hard frost. All through the camp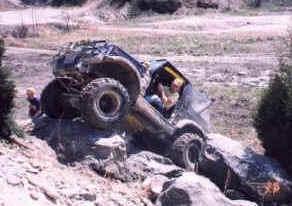 ground could be heard, "Damn it's cold". Tim Porter is the first up and out. I whisper to my wife, "Give him a minute he will build the fire." Next  thing I know her head is back under the sleeping bag. "Boy you owe me".
It has been one heck of a weekend. Lets pack and go home after the raffle... Not, Tim and Jeff are going to show us mud runners the finer points of the ROCK! We found a level 4 / 5 trail very close to the camping area. Just off the road there is a left turn into the woods, it is a short run to the first obstacle. We are getting over this? Jeff is first, then Micah both make it over and make it look easy.
Next up is Jody. His Samurai is equipped with a 5 inch Calmini Shackle Reversal lift with 29's.  Jody is up and over. Over the cheers can be heard, " I want bigger tires". Only one new dent in the fresh paint. His smile is from ear to ear as he yells to us, " Lets do another one" Sorry Jody it is time to pack up for the six hour trip home.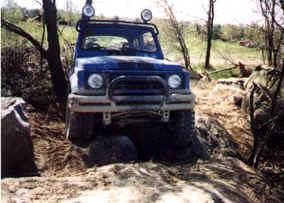 You can bet we will be back to spend more time in this awesome park! Look for information to be posted soon about an iZook run to the Badlands.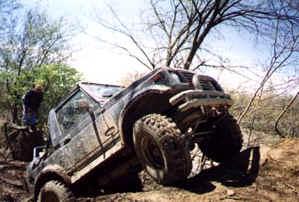 The hard luck award has to go to Micah Wills. He installed his new Crawler Transfercase gear set before coming to this event. First the mount breaks, he has it fixed and he gets to wheel. It is the last hour of the last day and he blows a front driveshaft taking out the front of the case. Luckily he found spares in the park from the owners.
4 x 4 Adventure with Superlift
April 23rd - 25th 1999
The Badlands      Attica,Indiana
3 Days of 4 x 4 trail riding at the Badlands O/R park.
Guided rides of all levels led by the Wabash Valley Trailblazers Club.
Live Music
Paint Ball games on an obstacle course.
Great food, 3 catered meals.
Many 4 x 4 games.
Mini Rubicon area.
Sand Dunes.
Great wooded trails.
Old quarries.
Hill climbs.
Cool mud runs.
Fun games for the kids.
4 x 4 raffle.
Camping -
Summers Campground 765 762 2832
Trail Rides -
A lot of new trails added this year. Wanna play on the dunes? Try the mini Rubicon? See if those new mud tires really work? It's all there to enjoy.
Vehicle Requirements -
Any and all 4 x 4 vehicles are welcome for this event. Vehicles must have seat belts for all passengers, hard top or roll bar. We recommend a tow strap, fire extinguisher and tow hooks.
08/11/10 15:29