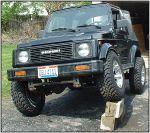 2:268 Low
Gear Ratios
Various Ring & Pinions   3.73 3.9 4.3 4.57 4.625 5.125 5.2 5.38 5.43 5.625 5.83 Stock Transfer Case   2.268 2.268 2.268 2.268 2.268 2.268 2.268 2.268 2.268 2.268 2.268                           Gears Tranny Ratios
Low Range Crawl Ratios
1st 3.652 30.89 32.30 35.62 37.85 38.31 42.45 43.07 44.56 44.98 46.59 48.29 2nd 1.947 16.47 17.22 18.99 20.18 20.42 22.63 22.96 23.76 23.98 24.84 25.74 3rd 1.423 12.04 12.59 13.88 14.75 14.93 16.54 16.78 17.36 17.52 18.15 18.82 4th 1 8.46 8.85 9.75 10.36 10.49 11.62 11.79 12.20 12.32 12.76 13.22 5th (Pre 88.5) 0.795 6.73 7.03 7.75 8.24 8.34 9.24 9.38 9.70 9.79 10.14 10.51 5th (88.5 on) 0.865 7.32 7.65 8.44 8.97 9.07 10.05 10.20 10.55 10.65 11.04 11.44 Reverse 3.466 29.32 30.66 33.80 35.92 36.36 40.29 40.88 42.29 42.68 44.22 45.83
08/11/10 14:48

Looking for more exposure at your web site? We are  looking for contributing authors. Any article you provide will  be linked back to your site from the iZook web site with a full size banner at the top of your article.  This site  can only stay cutting edge with your input. E – mail me for details.  You can link to iZook with a new link button. Make sure to let us know if you use this button so a return link can be posted on the iZook links page.
Select this link for the Table Of Contents
iZook.com is Trademarked 1998-2007, iZook. All rights reserved.  This site is protected under copyright laws. Please do not use the iZook.com name or reprint any articles from this site without written permission. Copyright 1998-2007, iZook. All rights reserved. 
Disclaimer: The fabrication, modifications and designs you see on this web site are completed by our readers and submitted to us for publishing.  If you duplicate these modifications you do so at your own risk. We do not endorse or make any claims to their safety, performance, On-road or off-road worthiness except as noted in our "Product Reviews". These reviews are on items purchased from or provided by reputable aftermarket suppliers.   Please see our legal information page for details. Suzuki, Samurai, Sidekick, Vitara, Grand Vitara, X-90, and the Suzuki "S" Logo are all registered trademarks of American Suzuki Motor Corporation. Geo, Chevy, and Tracker are all registered trademarks of General Motors Corporation. iZook is in no way endorsed by or affiliated with American Suzuki Motor Corporation.